LCLT's most recent housing neighborhood Common Ground received four major "green" awards for its architectural and energy elements, as well as spotlighted in the June 2010 issue of Builder magazine. See our News section for the stories.
Common Ground, completed in 2009, is a sustainable net zero energy project and received its award in part due to LCLT's publication of the manual Land, Water, Energy, Resource Use: A System's Approach. Features include straw bale construction with earthen plaster, rainwater catchment, solar hot water and a grid-tied solar electric system. This is a mixed-income development of 11 homes and 2 rental units along with an office/resource center.
Lopez Community Land Trust (LCLT) began construction of Common Ground on June 4, 2007 as a demonstration project for replication. We produced affordable housing opportunities for Lopezians in a mixed income development of 11 homes and 2 rental units along with an office/resource center. The site location is on a seven-acre parcel owned by LCLT just off Lopez Road on Tuatara Road.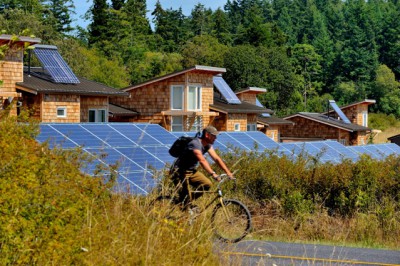 ---
"Common Ground is about reinventing the American Dream. In the years ahead, Americans will be compelled to shed some deeply ingrained habits of material consumption. These adjustments can be endured, nay, embraced, if people are confident that the country is headed to a more fulfilling transformation. I believe this transformation is fundamentally about discovering what it means to be truly human, not as 'consumers' but citizens, neighbors, friends, co-creators of a compelling new story that embraces social justice and a healthy planet. It's about smaller footprints and larger lives."
—Chris Greacen, resident of Common Ground.
"In 1989 LCLT was created in response to the rapid rise of real estate prices. Escalation of home prices threatened the very fabric of our community. Common Ground is our fourth affordable housing development and the first net zero energy neighborhood. Common Ground was developed for replication; modeling rain water catchment, solar electric and solar themal systems, passive solar design, straw bale construction, earthen plasters and elements of permaculture design.
"Common Ground is home to teachers, small business owners and those who are self-employed. It is a testament of living comfortably and sustainably with a greatly reduced carbon footprint."
—Sandy Bishop, Executive Director of LCLT
"When I first heard about this project, I didn't think it could be done and now that I see it's possible, I want to spread the word!"
—Rhea Miller, Assistant Director, LCLT
---
For a diagram of a typical home and its sustainable energy features, see Mithun's "Common Ground" Renderings.
The first milestone of Common Ground was a design charrette that brought environmentally-minded professionals together in March of 2006. You can view the Scrapbook from this event.
Joe Bullock, a permaculture consultant for the project, prepared a brief discussion of biodiversity on the site, and offered a suggested plant list.