Land, Water, Energy, Resource Use Manual
"Land, Water, Energy, Resource Use A Systems Approach: Understanding Our Fourth Affordable Housing Development"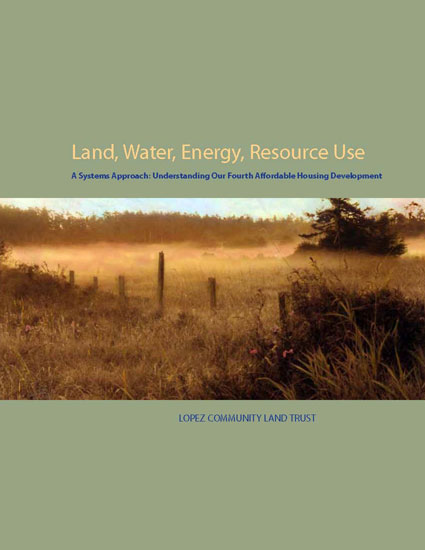 Lopez Community Land Trust's fourth development, Sustainable Community Homes, consists of eleven single family residences comprising the Common Ground neighborhood, LCLT's office and two studio rental apartments. In addition to the buildings, the project showcases strawbale construction, a rainwater system, rain gardens, solar photovoltaic and solar thermal systems.
Getting to Zero: our Net-Zero Energy goal
Guiding Principles and Definitions
The community and building team defined "Net-Zero Energy" as an annual balance
of consumption and actual on-site energy production within five years of
first occupancy.
We wanted to make this a fun challenge – getting to net-zero energy use – by
combining low energy-use building techniques with renewable energy
production.
We wanted to raise the bar by challenging the design team to reduce energy
use by up to 48% through passive solar design features.
Education and direct feedback are essential. Meters were placed inside each
home and financial incentives reward those who use less.
In this manual LCLT shares the design principles and technologies used as we worked to get close to our vision of "Getting to Zero." We hope others will learn from our success as well as from our shortcomings and we look forward to learning even more from those who surpass us.
Digital copy of the manual available upon request.