LCLT Movie Night and Annual Meeting: March 26th at 7pm
Living the Change: Inspiring Stories for a Sustainable Future!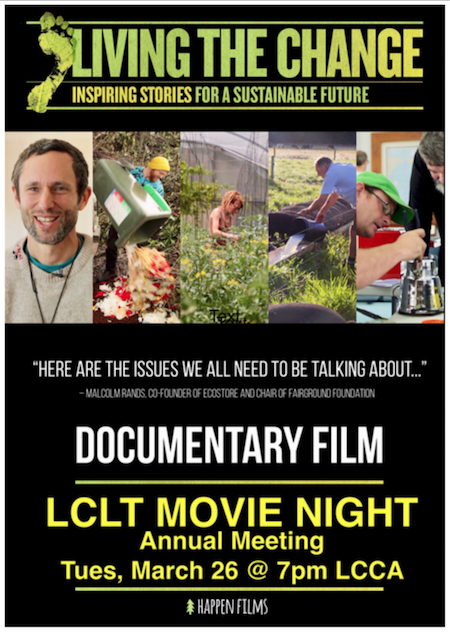 Lopez Community Land Trust has been Living the Changefor 30 years and is excited for what is about to unfold ahead. As part of this celebration, LCLT is showing the movie from "downunder" called Living the Change. "A sumptuous looking film with a smorgasborg of people who give a damn, and who're all trying to change the only world we have for the better." (Te Radar)
Sometimes it can feel like the environmental, economic and social issues the world is currently facing are too big, too overwhelming—climate change, resource limits, economic downturn, social disconnection—to be dealt with by individuals. Each and every one of us has the power to create change. Living the Changeexplores solutions to the global crises we face today, solutions any one of us can be part of and some of us already are, through the inspiring stories of people pioneering change in their own lives and in their communities in order to live in a sustainable and regenerative way.
Directors Jordan Osmond and Antoinette Wilson have brought together stories from their travels around New Zealand, along with interviews with experts able to explain how we have come to be where we are today. From forest gardens to composting toilets, community supported agriculture to timebanking, Living the Change offers ways we can rethink our approach to how we live.
Join us for the movie Living the Change and a short Annual Meeting for electing Board members. Everyone is welcome. Light refreshments provided!
https://www.lopezclt.org/wp-content/uploads/LTC_logo_square.png
400
400
admin
http://www.lopezclt.org/wp-content/uploads/2017/01/logo.png
admin
2019-02-18 14:03:01
2019-02-20 15:27:40
LCLT Movie Night and Annual Meeting: March 26th at 7pm