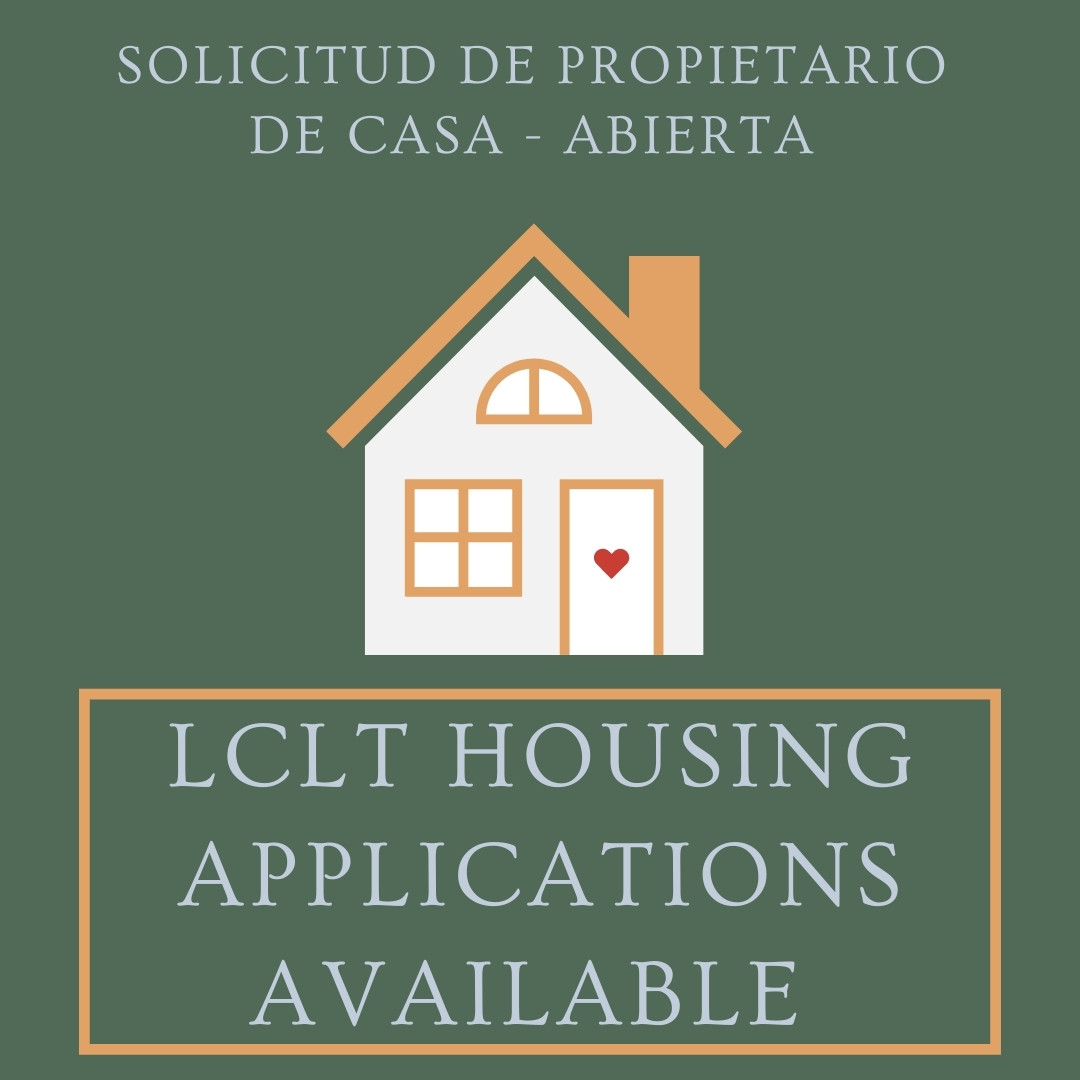 Español al final de la página
Lopez Community Land Trust (LCLT) is opening an application process for new housing.
The site is five acres located at Fisherman Bay curve, we fondly refer to the site as the For Sale Soon property. (The old sign now has an earth flag displayed).
Here's a bit about the situation:
In the next month we will review applications and respond to queries.
Due to influencing factors – land use, septic, etc. – we can only construct 12 bedrooms and not more than 8 homes.
We are working with a local designer on a plan for 6 – two bedroom 1.5 bath designs with a flex room (a room with no built in closet that can be used for an office, etc.) But depending on applicants we may change up the design concept.
Households earning up to 115% of San Juan County Area Median Income for 2022 are eligible to apply. Approx. annual income upper limits are: 
1-person household, $70,000
2-person household $90,000 
4-person household, $100,000 
Contact us to discuss your specific questions.  This information is for guidance only.
Estimated cost of construction per house: $430,000
Estimated portion of mortgage a household is responsible to cover: $150,000 – $175,000
Estimated portion of financing LCLT is responsible to raise per house: $255,000 – $280,000
Estimated monthly housing expense: $1,100 – $2,000 depending on household size, etc.
If all goes somewhat close to according to plan:
Applicant pool will be chosen by Fall 2022
Driveway, clearing, well and septic Fall 2022/Spring 2023.
Build 2023
Occupancy December 2023
It's a changed world so we will just do our best to juggle, grapple, finagle and carry on as though we have some semblance of control over the schedule and costs.
We are working with a local forester on tree assessment, root zone protection and creation of defensible spaces around the homes due to changes brought on by climate – including being more cognizant to fire and more frequent 100-year rain events.
In addition to reviewing and choosing applicants we will put together an infrastructure and construction crew, fundraise, complete design, submit for permits and take care of a thousand little details that it takes to build a home in San Juan County now a days.
Did you know that in 1991 when LCLT first built it cost us $70,000 to build a home? In today's dollar, with inflation that would be: $147,762. But so much has changed. Today it costs about $70,000 per home just to get the infrastructure in.
There's a lot of local folks who need housing. This is the first housing development LCLT is offering for households earning up to 115% area median income. We have additional land to serve those making less $$. But we want to try this. Depending on the applicant pool, access to financing and other factors we'll see how it evolves. Lopez Island needs to have decent housing options available to a wide range of households. It is part of nurturing a mutual aid and civic society.
LCLT is offering a co-op model of ownership. It's a lot to explain so once we know who is interested we will offer a Zoom and/or in person meeting and go over details. You also need to know that the land will stay in ownership of LCLT. We are offering security of tenancy for 198 years (if you live that long!) an affordable monthly housing cost, a beautiful setting and a chance to build and manage homes with other local working folks.
English and Spanish language applications available. Contact: LCLT@rockisland.com.
If you do not hear from us then call 360.468.3723 because e-glitches do happen.
If you are interested please fill out the application to the best of your ability and submit to LCLT@rockisland.com. Or drop off at our office at 25 Tuatara Road. There is a locked drop box just outside the door. We'll be in touch with each applicant.
EHO = Equal Housing Opportunity
PS. Even if housing seems near impossible we should try anyway…other housing ideas include:
-Seasonal worker group home (could also be used as an off-season shelter for folks in need of winter warmth).
-Shared houses for year round living
-Tiny House Community…
Oferta de vivienda
Lopez Community Land Trust (LCLT) ha lanzado un proceso de solicitud de nuevas viviendas.
El sitio consta de 5 acres ubicados en la curva de Fisherman Bay. Nos referimos con cariño al sitio como la propiedad For Sale Soon. (El antiguo letrero ahora muestra una bandera de la tierra).
A continuación, compartimos algunos detalles sobre la situación actual:
En el próximo mes revisaremos las solicitudes y responderemos a las consultas.
Debido a factores de consideración (uso del suelo, fosas sépticas, etc.), solo podemos construir 12 dormitorios y no más de 8 viviendas.
Estamos trabajando con un diseñador local en un plan para 6 diseños de 2 habitaciones y 1 baño y medio con una habitación flexible (una habitación sin armario empotrado que se puede usar como oficina, etc.) Pero dependiendo de los solicitantes, podemos cambiar el concepto de diseño.
Los hogares con ingresos anuales al maximum de 115% de ingreso medio anual de San Juan County son elegibles. Son los ingresos anuales maximum aproximados:
Por una persona, puede ganar maximum de $70,000
Dos personas maximum de $90,000
Familia de quatro maximum de $100,000.
Contactarnos por preguntas especifico. Esta información es solamente para referencia.
Costo estimado de construcción por casa: 430.000 $.
Porción estimada de la hipoteca que cada hogar debe cubrir: 150.000 $ – 175.000 $.
Porción estimada de financiamiento que LCLT es responsable de recaudar por casa: 255.000 $ – 280.000 $.
Gasto de vivienda mensual estimado: 1.100 $ – 2.000 $ dependiendo del tamaño del hogar y otros factores.
Si todo va más o menos según lo planeado:
El grupo de solicitantes será elegido para el otoño de 2022
Calzada, despeje, pozo y fosa séptica: otoño de 2022 / primavera de 2023.
Construcción: 2023
Ocupación: diciembre de 2023
El mundo ha cambiado, así que haremos todo lo posible para hacer malabarismos, trucos y peripecias, y pretender que conservamos el control sobre el cronograma y los costos.
Estamos trabajando con un silvicultor local en la evaluación de árboles, la protección de la zona de raíces y la creación de espacios defendibles alrededor de los hogares debido a los cambios provocados por el clima, lo que incluye ser más conscientes de los incendios y las lluvias de categoría centenaria cada vez más frecuentes.
Además de revisar y elegir a los solicitantes, reuniremos un equipo de infraestructura y construcción, recaudaremos fondos, haremos el diseño, solicitaremos permisos y nos ocuparemos de todos los pequeños detalles relacionados con la construcción de una casa en el condado de San Juan en la actualidad.
¿Sabía que, en 1991, cuando LCLT levantó su primera obra, nos costó 70.000 $ construir una casa? En dólares de hoy, haciendo el ajuste inflacionario, este monto sería equivalente a: 147.762 $. Pero muchas cosas han cambiado. Hoy en día, hay que pagar alrededor de 70.000 $ por hogar solo para instalar la infraestructura.
Hay mucha gente de la zona que necesita vivienda. Este es el primer desarrollo de viviendas que LCLT ofrece a los hogares que ganan hasta el 115 % del ingreso medio del área. Tenemos terrenos adicionales para atender a aquellos que ganan menos $$. Pero queremos probar esto. Dependiendo del grupo de solicitantes, el acceso a la financiación y otros factores, veremos cómo es la evolución. La isla Lopez necesita tener opciones de vivienda decente disponibles para una amplia gama de familias. Es parte de nutrir una sociedad cívica y de ayuda mutua.
LCLT ofrece un modelo cooperativo de propiedad. Hay mucho que explicar, así que una vez que sepamos quién está interesado, ofreceremos una reunión de Zoom y/o en persona y revisaremos los detalles. También necesita saber que la tierra seguirá siendo propiedad de LCLT. Ofrecemos seguridad de la tenencia por 198 años (¡si es capaz de vivir tanto tiempo!), un costo de vivienda mensual asequible, un entorno hermoso y la oportunidad de construir y administrar viviendas con otros trabajadores locales.
Si está interesado, complete la solicitud lo mejor que pueda y envíela a LCLT@rockisland.com. O déjela en nuestra oficina en 25 Tuatara Road. Hay un buzón cerrado justo afuera de la puerta. Nos pondremos en contacto con cada solicitante. Si no recibe noticias nuestras, llame al 360.468.3723. Recuerde que las fallas electrónicas pasan.
EHO = Igualdad de oportunidades de vivienda
Consulte la solicitud en inglés y español adjunta
Support
LCLT is a 501(c)(3) non-profit organization.
Tax ID 91-1469975
Contact Us
Address:
PO Box 25
Lopez Island, WA 98261
Phone: (360) 468-3723
Fax: (360) 468-3724