Impressions from Thriving Communities / Coming Together Virginia Conference in Richmond, VA – April 28-29, 2022
By Breton Carter, photos courtesy of Jonathan Davis
The trip to Richmond was a truly inspiring experience.  It was my debut beyond Lopez as a speaker for LCLT! The two-day conference took place in Richmond, the former capital of the Confederacy and home of Robert E. Lee. It was a really interesting time to be there, as the statues of confederate generals on monument avenue had just come down a few weeks prior.
The conference was a meeting of minds, sharing how collective community change has been created in pockets across the country from Boston, to Richmond, to Lopez Island. It created space for collaboration among white and BIPOC attendees meeting one another over lunch, sitting in meditation, practicing laughing yoga or bucket drumming, and diving deep into conversation after watching powerful videos of community change.
Our first day started off with bucket drumming led by Dr. Ram Bhagat. We listened as we did call and response, participating in conversation through rhythm. At first we each hammered to the beat of our own hearts and were in awe as our heartbeats gradually synced together, creating a unified drumbeat. He has done this activity with groups of all ages and backgrounds, and every time, by the end, heartbeats and drums grow in sync.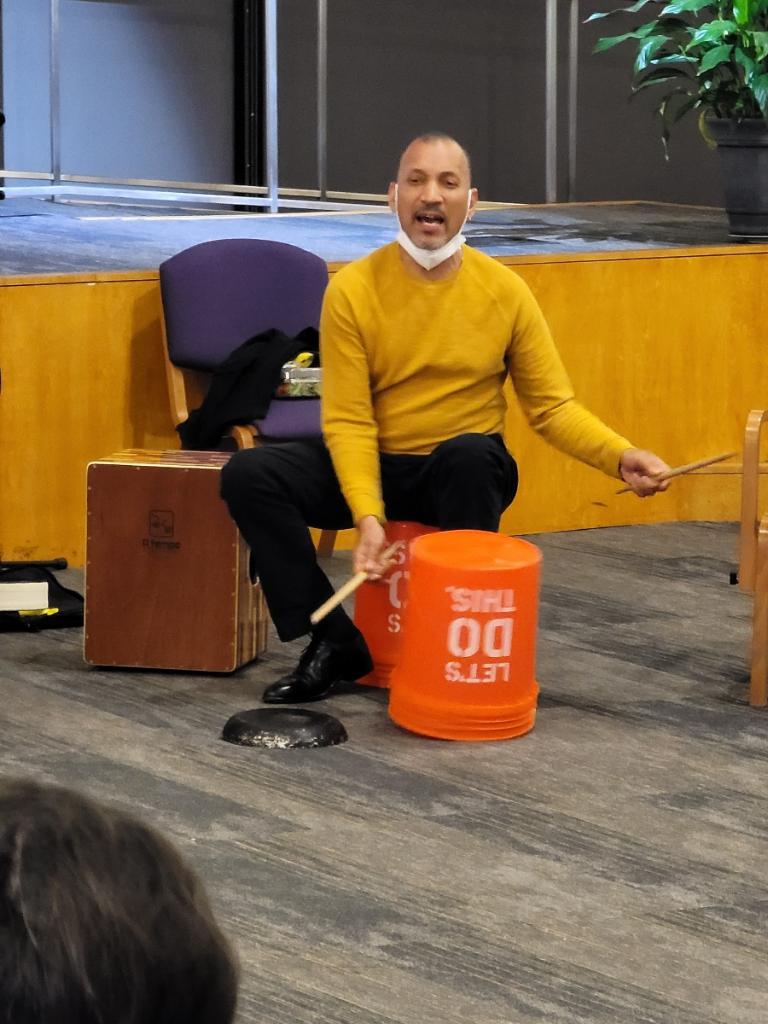 Dr. Ram Bhagat leading bucket drumming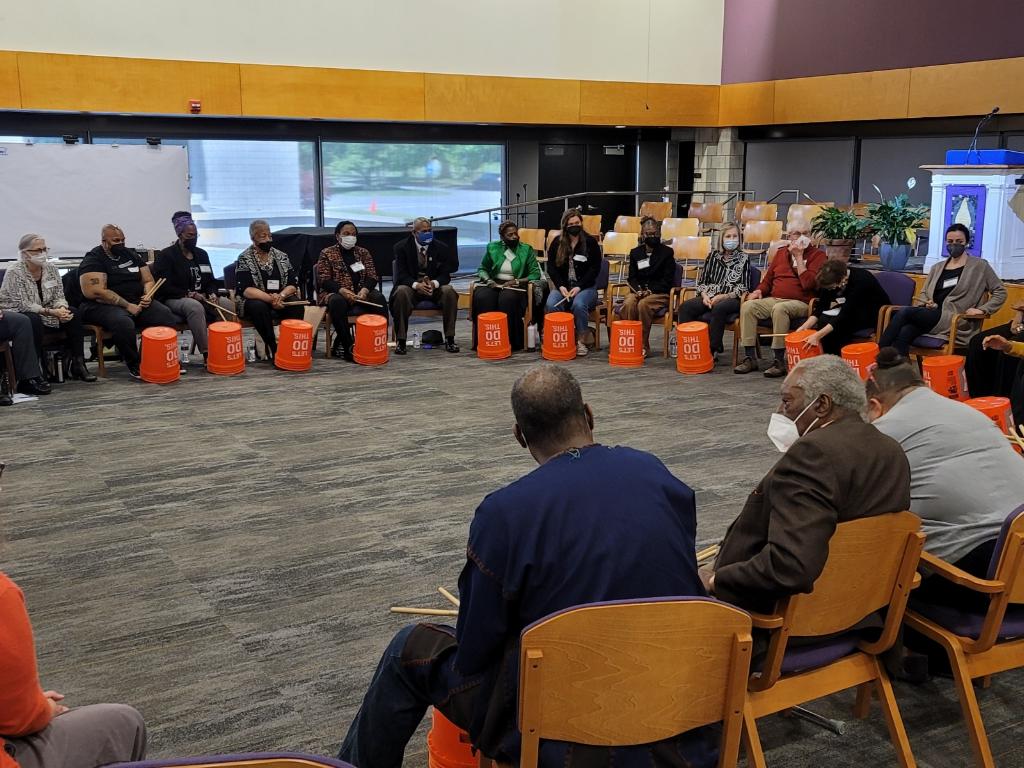 Bucket drumming participants (I'm center, on the opposite side of the circle. The man in the forefront in the blue shirt is Dr. Ray Tademy)
After the morning drumming, I went to lunch and sat at a table with Jason Webb of Grounded Solutions, Gus Newport, lifelong civil rights and peace activist, and Dr. Ray Tademy of Virginia Commonwealth University. I mostly listened as Gus and Ray discussed the challenges people who are and have been incarcerated face, and the tremendous skills and knowledge that they can bring to the table. Ray, a Black man with a PhD and a very academic background shared a story about his work at Open Minds, an education program at the Richmond City Jail. Ray had been working at the jail for a while and wanted to create program outside of the jail to engage youth in healthy programs, and to support families. To meet people and encourage involvement in the program, Ray would walk up to a local's home and knock on their door. But each time he did so, people didn't answer or they quickly closed the door. Knock. No answer. Again, and again.
Ray was working with an incarcerated man, Ronald "BB" Shavers, through the teaching program at the Richmond City Jail and told him about how hard it was to connect with folks. The man asked Ray, "How did you try to get in touch with people? You knocked on their doors?!" He laughed. Ray didn't understand what was so funny. The man explained, "You could have been social services coming to take a child away. You could've been a collections agent. You could've been anybody looking for someone. Of course no one trusted you – they just saw a stranger in a suit."
Ray asked, "What should I do?" and the man responded, "Pick up trash." Ray didn't quite believe it, so the man said, "when I get out, I'll show you."
When Shavers got out of prison, he started picking up trash around his neighborhood. Before long, some kids got curious and joined him. Little by little, they started talking, and expanded the program. Now, Ronald BB Shavers is the director of the Dawn to Dusk Program in Lynchburg Virginia, supporting kids and families, building connections and meeting community needs through a wide range of services.
Ray said that he never would have thought of picking up trash. He realized that intelligence isn't always academic in nature. He shared the significance of listening to others, letting go of differences and entitlement, and empowering local community members to lead.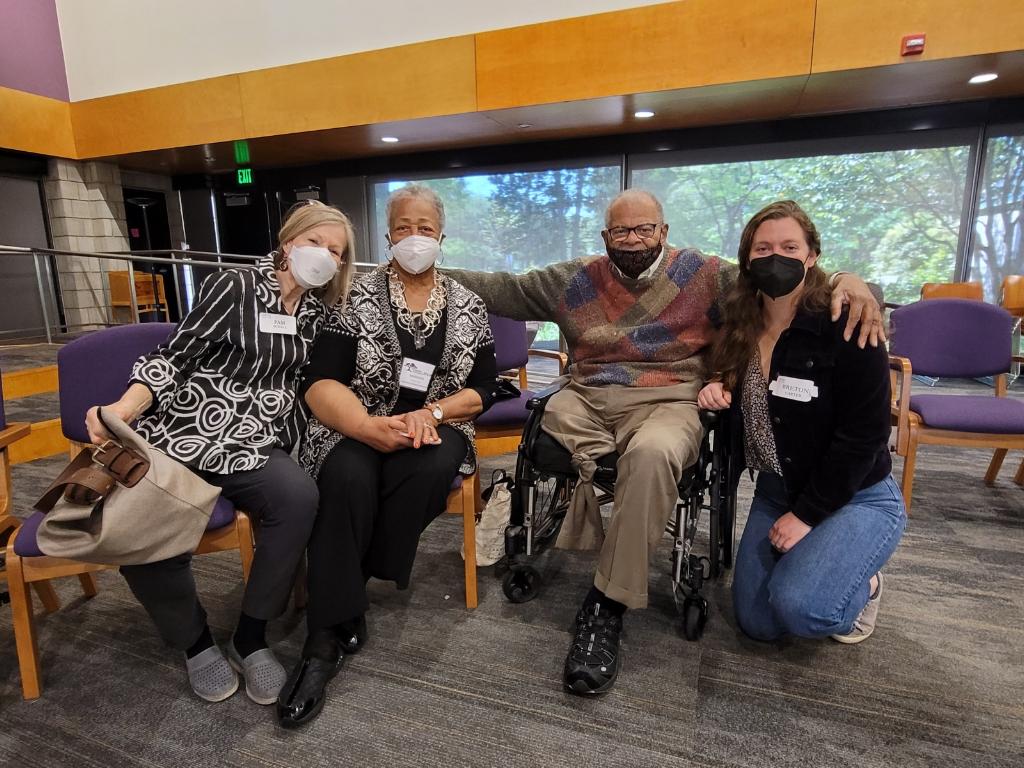 Pam Schell (Thriving Communities), Barbara Brown (Coming together Virginia), Gus Newport, and me.
Interestingly enough, on Dudley Street in Boston, it was also picking up trash (and removing illegal dumping zones) that started a movement. Just after that lunchtime conversation, Gus and Jason were panelists after we watched Holding Ground: The Rebirth of Dudley Street. I encourage you to watch the film, viewable here: https://www.newday.com/film/holding-ground-rebirth-dudley-street. In the film, you can see a teenage Jason, and a younger Gus. The film and conversation demonstrated how consistent community activism, political maneuvering of local officials by the people of that community, smart publicity efforts, and tenacious, continued advocacy over time can transform a neighborhood. On Dudley Street, a place-based community was formed, overcoming differences in culture, language, and identity to work together to revitalize the neighborhood and keep local residents there by forming what is now the Greater Boston Community Land Trust Network.
The conversation emphasized the importance of keeping community decisions within the community, of exercising democratic rights and voices, and of including all people from that place (even going to such lengths as ensuring the majority of board members were from the neighborhood, and translating events, radio broadcasts, initiatives and ballots into three different languages). The last take away was to celebrate. To create spaces of joy and laughter, and to have fun when working on a difficult, long-term vision. Gus even told a good joke during the presentation. In the next breath, Gus would go on to talk about working with Malcolm X, or how he connected with his good friend Edward Said while working on issues in Palestine and Israel. Gus is a force to be reckoned with who easily has your heart. We were honored by his presence, and he was honored twice by Richmond representatives during the trip.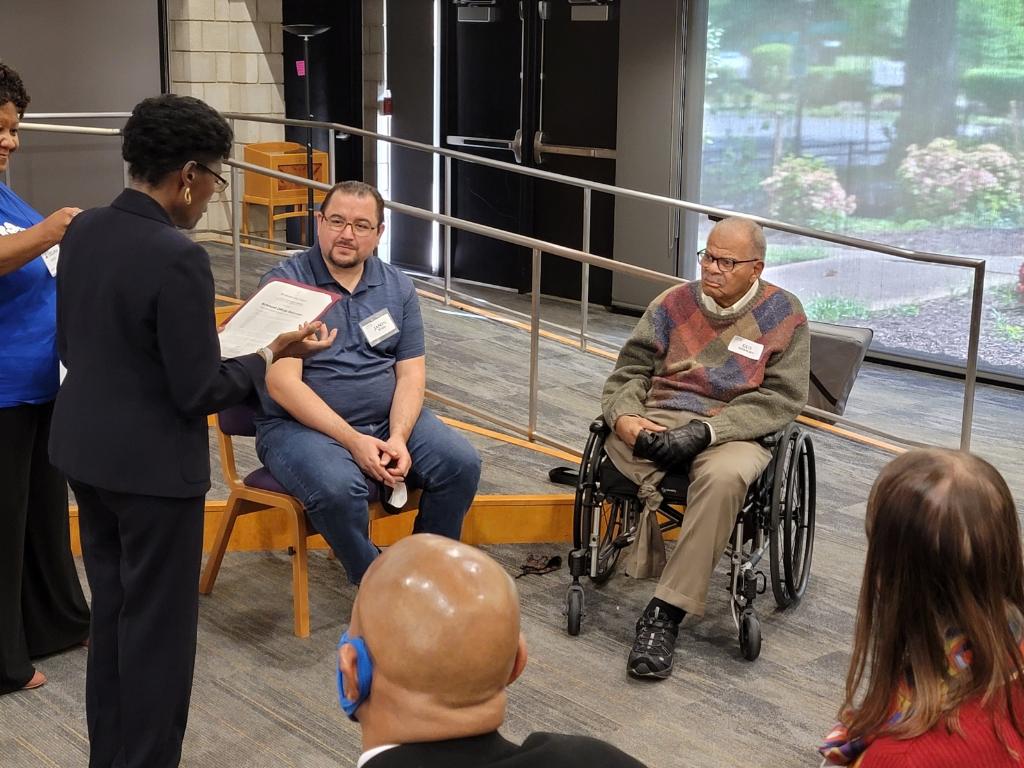 Richmond City Councilwoman Cynthia Newbillie recognizing Gus Newport (right). Jason Webb is center, and Danita Green on the far left.
That evening, we had dinner at the newly re-named Virginia Museum of History & Culture. Danita Roundtree Green, co-CEO and founder of Coming Together Virginia, told me that she used to never step foot in that building because of what it represented when it was the Virginia Historical Society. For reference, the building was originally a home for Confederate art and records, and next door is the headquarters for the national United Daughters of the Confederacy. She said the United Daughters fought the removal of the monuments and continued to fly the confederate flag.
But the Museum of History and Culture has a new President, and he wanted to change how things had been done. He emailed Danita and other local Black leaders in the community to ask if they would consult on the new installations. His emailed went unanswered. He emailed again, and still no response. When telling the story, Danita gave a long, exasperated sigh and rolled her eyes. She just didn't want anything to do with the place. The next time she received one of these emails, she forwarded it on to her cousin and said, "Look – if you want to go to this thing, go ahead. There's no way I'm going to go." And she hit send. Except that she didn't forward it to her cousin; Danita had hit reply.
She didn't realize the mistake until she received another email from the new president. He asked, "What would it take for you to come?" Caught in her mistake, Danita told him – "Come to our Museum (the Black History Museum and Cultural Center of Virginia), and meet us there first." So, he did – waiting at the door for Danita with a glass of champagne. Later, quite literally he opened the door for her at the Virginia Museum of History and Culture, with another glass of champagne in hand. Since then, they have had a relationship of collaboration re-telling the history of Richmond and Virginia. The relationship is strong enough that before the museum doors were opened, we had dinner there and the Carillon Community Film, produced by Thriving Communities, was premiered.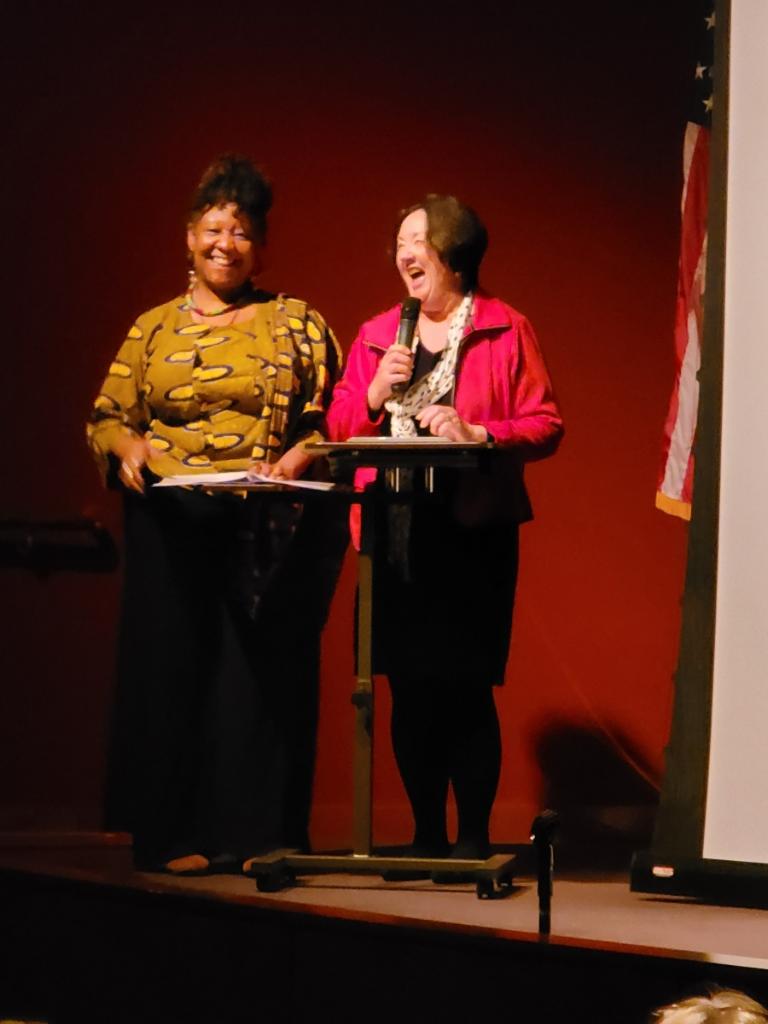 Danita Roundtree Green & Marsha Summers Co-CEOs of Coming Together Virginia (formerly Coming to the Table Richmond, Virginia)
The Carillon Community is the reason behind this conference taking place in Richmond. The Carillon Civic Association in Richmond took a stand for racial equity in the Jim Crow era to work to be and remain an integrated community. That night, the film was premiered for the community, with many of those in it watching for the first time. The energy was palpable. The Carillon Civic Association waded through intense redlining in Richmond, racism from community and family members, and worked to intentionally integrate and form community.
The Civic Association grew and now successfully operates Arts in the Park each year, one of the largest art shows on the Eastern seaboard. The film was followed by a panel discussion with members of the Carillon community who had been in the film. They described the racism they experienced in building the community, the positive impacts on children to live in an inclusive and integrated neighborhood, and some of the specific organizing techniques they used to garner support and excitement among people in the community, developing trust, care and friendship between neighbors. It is an inspiring story, and I hope you'll take the time to watch the film, viewable here: https://vimeo.com/707434914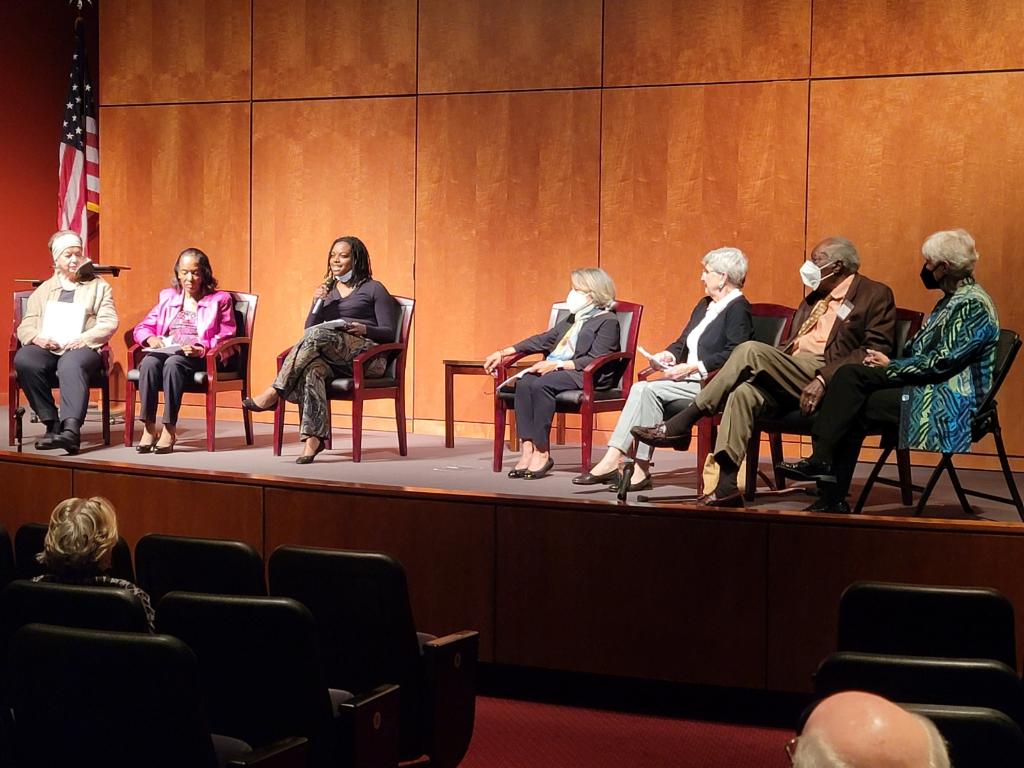 Moderator Sierra Lewis and Carillon panelists Charles Bragg, Ernestine Gilpin, Libby Soffee, Mary Jane Walsh.
The next morning, we practiced laughing yoga, led by Kiran Bhagat and learned that the brain doesn't know the difference between a real or a fake laugh or smile. If you smile for a minute, your brain will automatically release neuropeptides, leading to increased dopamine, serotonin and endorphins, bringing you a little more joy.
In the late morning, Jerry Milhon, Leader of Thriving Communities, introduced me – and the film he helped produce about LCLT. We realized then that I was the youngest person in the room! If you haven't seen the film, it is on our website here https://www.lopezclt.org/videos/ . The movie was made in 2015 and I got to share some of the continued progress we have made in the past 7 years. It's really remarkable! In 2015, LCLT had 37 homes – we now have 54. In that time, we have also purchased Stonecrest Farm and Lopez Sound Road Farm, holding 90 acres of farmland in trust. In the video, you can even see a young Isara Greacen, who we just featured as a graduating senior in our Annual Report. Thanks to the film, we now have a strong relationship with one of our largest foundation supporters. It was a validating experience, a reminder of the good work we are doing, the impacts we have continued to have, and of just how unique the spaces created by LCLT are.
I was then on a panel with Gus Newport, Jason Webb, and Tiffany Haynes of the Richmond based Maggie Walker CLT. Attendees asked about how to start a CLT, sources of funding, and some of how the structure works. Between the four of us, we were able to answer these questions. They helped me reflect on the significance and importance of the longevity of our programs, how the 99-year ground lease changes your perspective in regards to care of the land and community. I shared about my and Sandy's recent realization that Morgantown is 30 years old – and our speculation of what would happen to residents if we had limited to guarantee only 30 years of affordability. Afterwards, a few people came up to me saying, "Wow – I wish I lived there." It was hugely gratifying.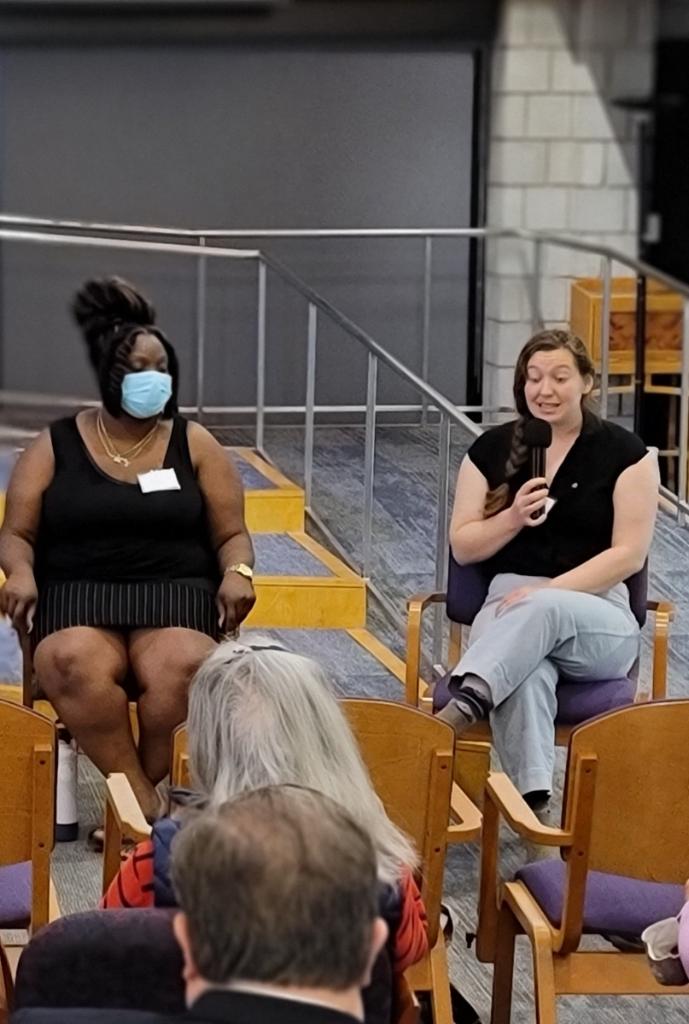 Me (speaking) and Tiffany Haynes (left) on the panel after the LCLT film.
The afternoon included another spatial awareness activity with Aikido, and then concluded with a special activity led by Danita. We had each been asked to bring a keepsake that represented our generational ties, ties of "those on whose shoulders we stand and/or for whom we do this work." I brought a sewing box that had belonged to my great-grandmother who was born in Virginia. It had modern day thread and needles, and a tatreez patch a friend embroidered for me. I felt it connected to some of my roots, to those from the state I was now visiting, recognizing some of my family's own complicated and complicit history of racism in America, and my deep commitment to social and racial justice. I am grateful that my first time in Virginia, and to the former capital of the confederacy, was for this conference, focused on healing wounds of the past by sharing the beauty that can come from intentional and beloved community.
Danita closed the conference by sharing the object she brought, and offering a libation ceremony. She brought a stool made by her great-grandfather who had been an enslaved person. He made the stool for his children. Each day when they came home from school he had them stand up on the stool and share what they had learned. And when they were adults, they had their children stand up and share one thing about what they had learned. Danita did the same as a young child, and as an adult, she had her children share what they had learned each week. Recently, Danita made the realization, that not only was her great-grandfather encouraging his children to learn and remember what they had learned, but as someone who had never gone to school or been taught how to read, he was learning too. She then started the ceremony, pouring water into a container with small pebbles, and opened it to others to speak and pour water.
After the conference, a few of us had dinner together. Recent Northwest Regional Emmy Winner Sharon Nyree Williams, shared a performance piece from her album Shook. Sharon is a storyteller, presenter, and producer of performing arts, and the executive director of the Central District Forum for Arts and Ideas. Her piece summed up well how we still have a long way to go in the movement for racial justice and equity – how we need to continue to make change. It is titled, "Dumb Shit" and you can listen to it on her website (track 6) here: https://www.sharonnwilliams.com/albums
Saturday, I had just enough time to attend the first day of the Arts in the Park art fair and purchase some small gifts. I am grateful for the connections I made, the stories I heard, and the people I met. It is an amazing group doing really wonderful work!

Final photo of attendees and hosts.
https://www.lopezclt.org/wp-content/uploads/Drumming.jpeg
1200
1600
Assistant Director
http://www.lopezclt.org/wp-content/uploads/2017/01/logo.png
Assistant Director
2022-06-14 14:01:22
2022-06-14 16:53:33
Richmond Conference