Happy Summer!
In these first couple weeks of official start of Summer, we are experiencing both June-uary and absolute stunning sun, and we are grateful for the long days of light.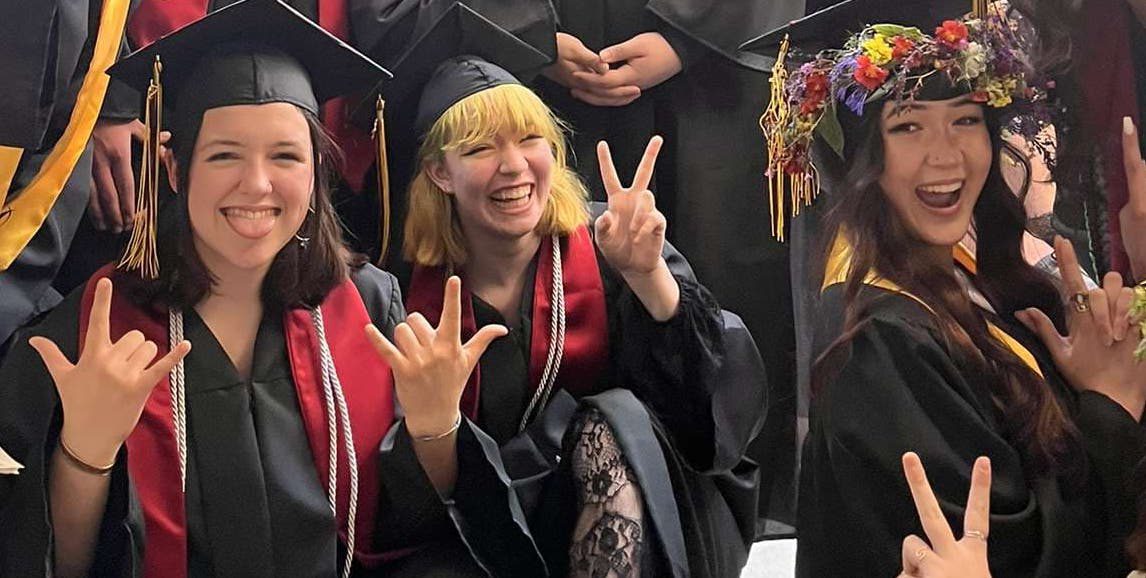 Congratulations to LCLT Graduating Seniors Morgen, Fig and Isara!
Wishing you, and Lopez graduates all the best.
---
How Do We Love All the Children?
By Rhea Miller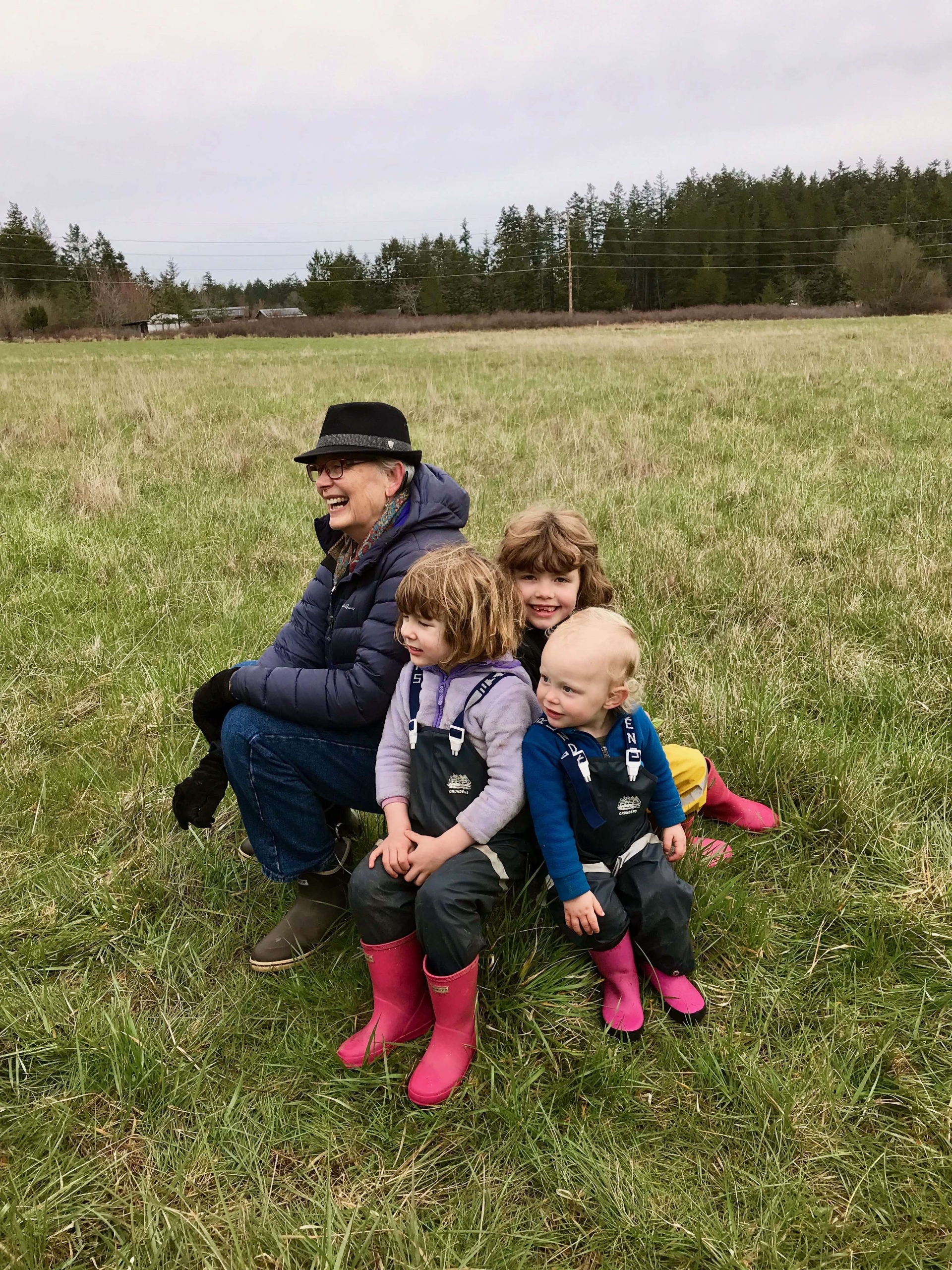 Rhea taking a break with the kids on Still Light Farm
LCLT's inspiration for the first net zero housing project in 2008 was the quote from architect Bill McDonough: "How do we love all the children of all species for all time?"
Our focus as a community land trust is holding land in perpetuity in order to provide community opportunities in affordable housing, regenerative agriculture and forestry, cooperatives and cottage industries.
A young woman from one of LCLT's neighborhoods said to us, "Our concerns are not your (baby boomers') concerns." By that she was referring to the current climate crisis, the mental health crises and growing anxiety of her peers, the reality of gun violence, the cost of further education, the lack of jobs that sustain a living, the regulation of women's bodies, the threat of nuclear war—in short, the lack of a future. We must ask ourselves, how do those of us from the white "boomer" generation, who had it all, provide our young graduates and the new babies in our midst with a sustainable future? Upon what is their hope to be based?
As LCLT prepares for building new affordable housing, and providing infrastructure for a new farm, we are asking ourselves questions about the island's ability to provide fresh water, garbage/recycling services, septic and sewage service, medical and mental health care, and locally produced food. We already are lacking in trades people, and a supply chain that is disrupted, and the County is backed up for months in permits. And to cap it off, how will we protect our neighborhoods from wildfires, heat domes, hurricane winds, torrential rains or drought?
Executive Director Sandy Bishop, along with several other islanders, attended a course on climate change offered by "Terra.do." It became very clear that what Wendell Berry says is true: "Whether we and our politicians know it or not, Nature is party to all our deals and decisions, and she has more votes, a longer memory, and stricture sense of justice than we do."
Nevertheless, when studying with these people we discovered the deeper their awareness, the more committed they have become to doing everything possible however big or small, to turn toward a regenerative and just future. They and their children challenge us to find the same courage and commitment.
We have been struck by the heartfelt commitment of newer farmers to look at the land, ask what it is trying to tell them, and then work within those limitations in a creative, joyous, hands-on, hard working way. Marge Piercy says it well.
To Be of Use
by Marge Piercy
The people I love the best
jump into work head first
without dallying in the shallows
and swim off with sure strokes almost out of sight.
They seem to become natives of that element,
the black sleek heads of seals
bouncing like half-submerged balls.
I love people who harness themselves, an ox to a heavy cart,
who pull like water buffalo, with massive patience,
who strain in the mud and the muck to move things forward,
who do what has to be done, again and again.
I want to be with people who submerge
in the task, who go into the fields to harvest
and work in a row and pass the bags along,
who are not parlor generals and field deserters
but move in a common rhythm
when the food must come in or the fire be put out.
The work of the world is common as mud.
Botched, it smears the hands, crumbles to dust.
But the thing worth doing well done
has a shape that satisfies, clean and evident.
Greek amphoras for wine or oil,
Hopi vases that held corn, are put in museums
but you know they were made to be used.
The pitcher cries for water to carry
and a person for work that is real.
---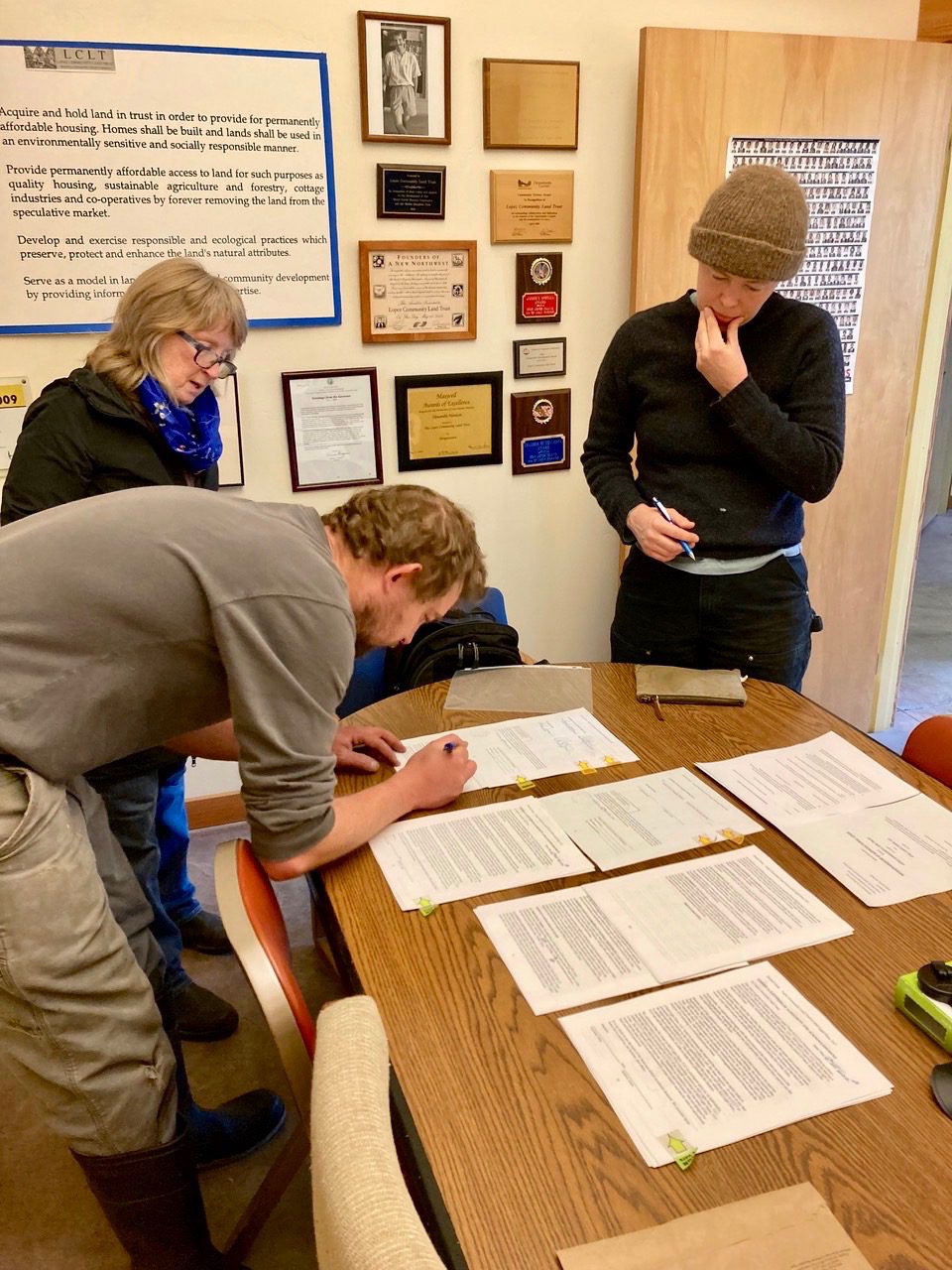 Andrew and Lena Jones signing a 99 year ground lease with LCLT Executive Director Sandy Bishop
32 years ago, LCLT dreamed of providing access to working farms as well as affordable housing. In the last five years, this is the second time we've been able to do so. We now have nearly one hundred acres of land leased to farmers for local food production on Lopez. Through this process we learned an interesting fact: across the nation, every long term lease needs to be negotiated in its own right — there is no cookie-cutter template. Every farmer and every piece of land has unique attributes that impact the process and need to be taken into consideration. Creating a lease takes time, nuance and thoughtful attention to complete. Both times we have created a long term lease with farmers, it has strengthened our relationships and created a solid foundation for years to come.
---
Still Light Farm Update
Photos & text by Lena Jones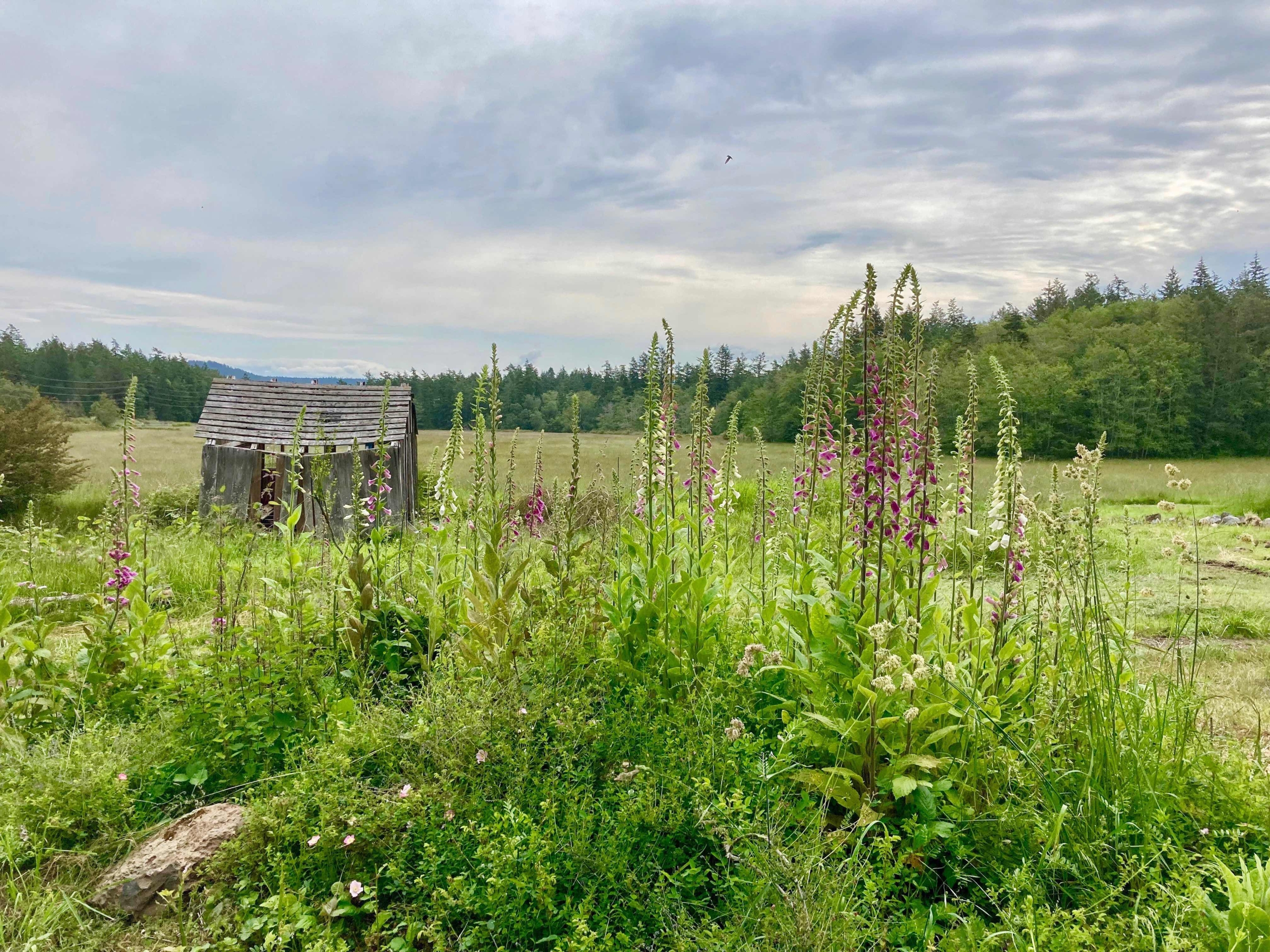 Foxglove blooming in front of the Old Shed, soon to get a new roof
Serviceberry is a new favorite of mine this spring. The white flowers glowed along every roadside here on Lopez in early May, lighting up our grey spring with a brief and glorious burst of blooms. Perhaps what I love about Amelanchier alnifolia is the way they seem to appear from nowhere, blending casually in to the hedgerows until they flower, and vanishing again as quickly as they came. We signed our lease with LCLT at their offices the week the serviceberry bloomed, the culmination of seven months of meetings with Sandy, Rhea, and Jim Oldham of Equity Trust. Equity Trust is a remarkable organization that works to change the way people think about and hold property. Together we drafted the ninety-nine-year lease that will guide our stewardship of the farm. It is a complex and thoughtful document and we're grateful to have it, and even more glad to have experienced the process of drafting it. In doing so, we grew deeply confident in LCLT as an organization, in Sandy and Rhea as individuals, and in our own commitment to this property and this model of land stewardship. Stepping outside of conventional land ownership wasn't the route we expected to take but it is so right for us and has opened us up to new ideas that we may not have come across if we'd taken a more traditional route to farmland. I think we will be better farmers, better stewards, and better neighbors because of it.
Earlier this spring we had a wonderful visitor. Andrew's grandfather, a farmer from Pennsylvania, came across the country to Lopez to see our new farm and celebrate his ninety-fifth birthday. Andrew grew up working alongside his grandfather on the family farm and it was joyful to see the two of them standing together on this land, looking out over the fields. We loved sharing this corner of the country with him.
At the beginning of June we moved onto the island for good. What a great feeling! The kids have visited the schools they'll be at in the fall, we've become library patrons, and we got the keys to our PO box. Projects are rolling along on the farm—mainly discovery and infrastructure work—and we are looking forward to a full and beautiful summer.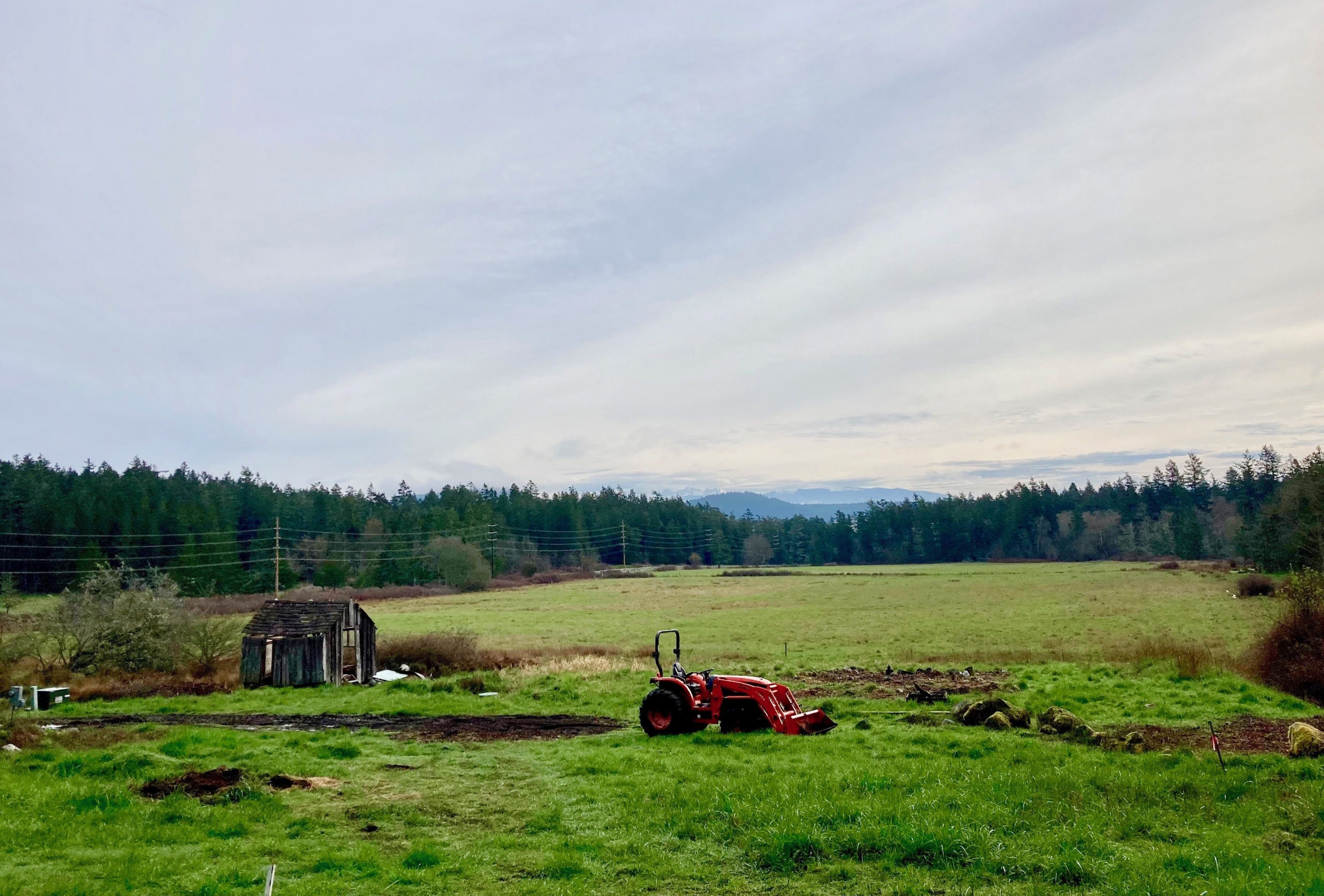 Our new-to-us tractor, Marigold
---
Stonecrest Update
Photos & text by Meike Mesisner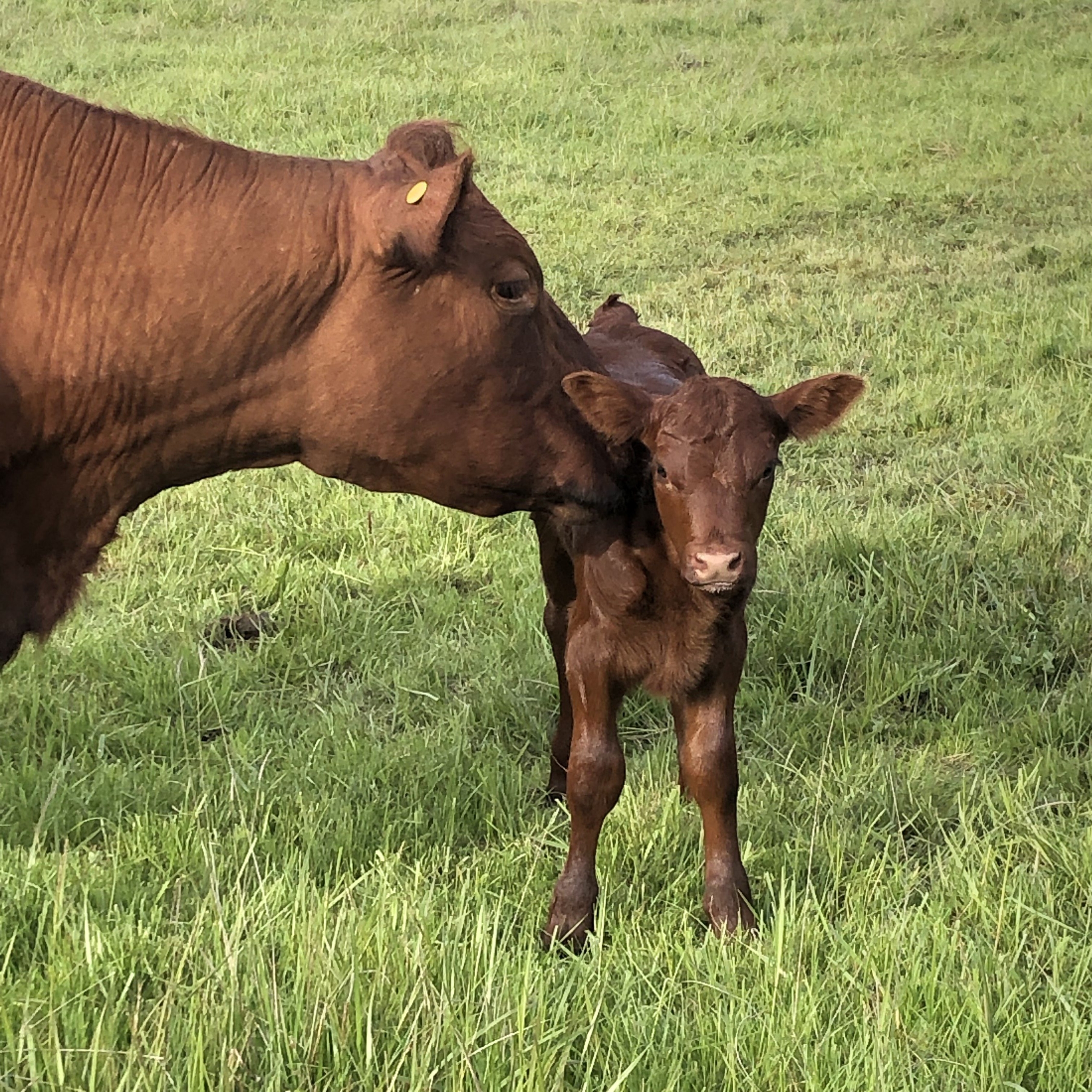 Another hefty heifer from one of our older cows — she's a very good mama
The long days of summer are here, that special time of year when there's always too much to be done and not enough daylight, even here at this latitude. This spring has taught us, yet again, how little we know about the Lopez weather and climate, as we watch the rain gauges remain full and the weeds grow almost Jurassic in size.
This season has us focusing on bringing in all of the hay that is needed for the winter ahead, tending our family garden, gathering herbs and wild rose buds for tea (such a heavenly scent!), and moving our herd and flock every day to new paddocks as the grass seemingly grows before our eyes. Here at HQ (our moniker for the homesite here at Stonecrest) the pastures are resting and the only animals left on site are a couple of bulls, a milk cow and her calf, the ram, and a small passel of pigs. The cows and calves have been moved to their summer ground off of Mud Bay Road, while the sheep continue to graze the neighborhood. We are currently leasing seven properties that our animals will be grazing on this summer, spreading fertility into the land and building soil. We also have processings scheduled every month for the rest of the year; meat sales will continue on Saturdays at the Lopez Farmers Market, every week through the San Juan Islands Food Hub, and every day at the Stonecrest Barn Stand.
We are thrilled to accept a grant award from the San Juan FARM Fund to rehabilitate approximately 16 acres of pasture starting this fall. These acres had been used to overwinter livestock for more than 30 years and are barely walkable. Restoring these 16 acres of pastureland through a barley crop and inter-seeding with diverse pasture grasses will be a crucial first step in bringing this prime farmland back into production. While disking and tilling the ground do not seem like regenerative practices, they are good tools to repair heavily damaged ground. The barley will be welcome for island hogs and the brewery, and the new pasture grasses that will succeed the grain crop will provide for forage and hay in the future.
The prices of diesel, hay, minerals, and processing continue to rise – where this will lead us, no one knows. As farmers, we are focusing on continuing to produce the best product while navigating these changing times and we thank everyone who continues to support not only us, but all of our local food producers. As we like to remind ourselves, "Know Farmers, Know Food!"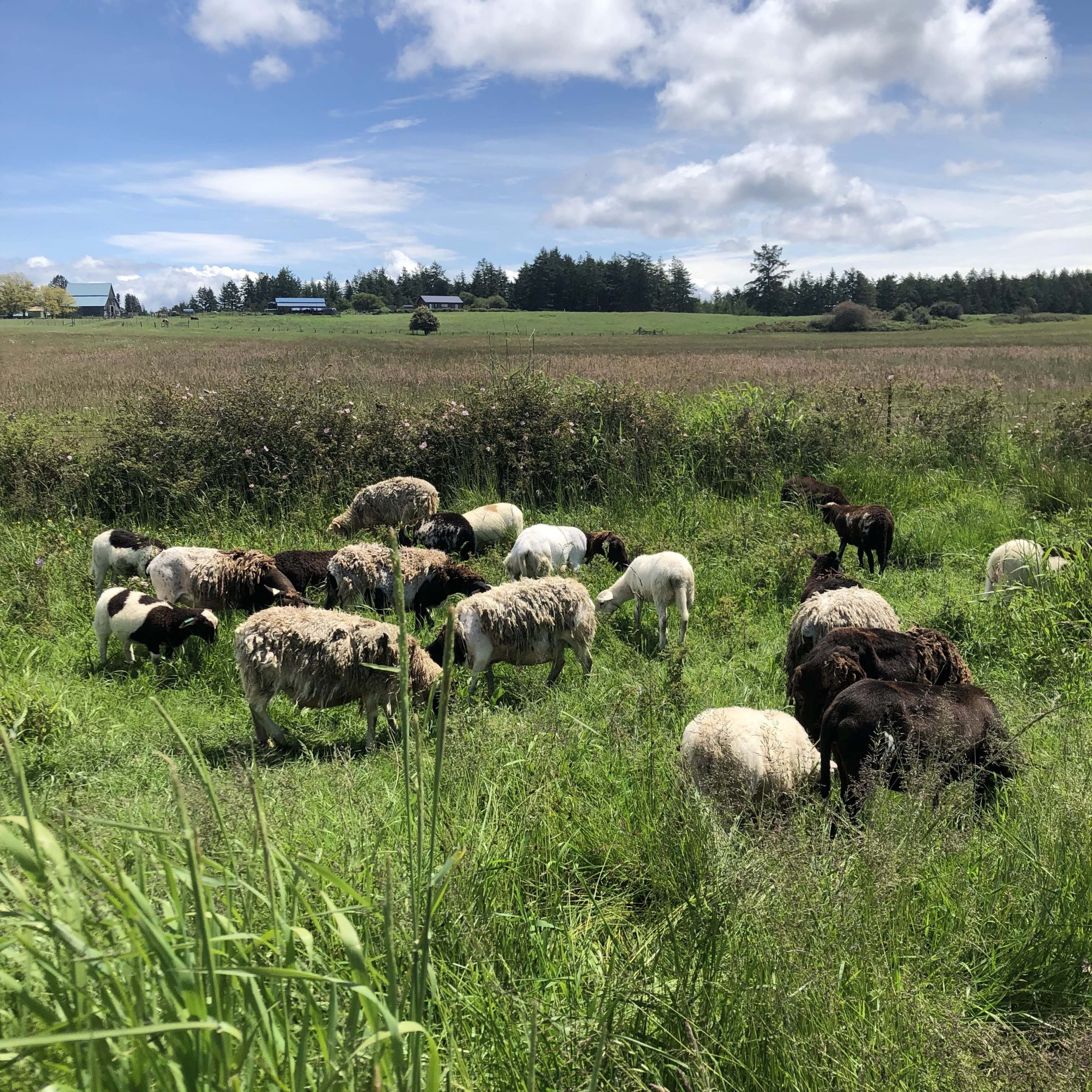 Happy Ewes and Lambs Grazing in the Field
---

Do you know about the San Juan Islands Food Hub?
The San Juan Islands Food Hub in an online marketplace for local food and agricultural products. It's an amazing way to support and purchase food directly from farmers and food producers (including Stonecrest Farm!) on Lopez, Orcas, and San Juan, all in one convenient storefront. Create an account on the Food Hub website to access the online ordering system, then pick out what you would like to purchase. If you're on Lopez, order over the weekend to pick up your groceries from Taproot Kitchen on Wednesday.
Be sure to sign up for the weekly newsletters as well. Sarah Pope is the Market Manager and always includes some interesting notes or the latest news on local farmers. Check out the website and create an account online at: https://sjifh.com
---
LCLT Design Charrette
At the end of March, LCLT hosted a 2-day Design Charrette and our Annual Meeting. It was a successful, insightful and fun event. We were joined by the JAS Design Team, Vandervort Architects, current LCLT homeowners, and community members. We conducted site visits, brainstormed, discussed site parameters, and had fruitful conversation about LCLT's next building projects.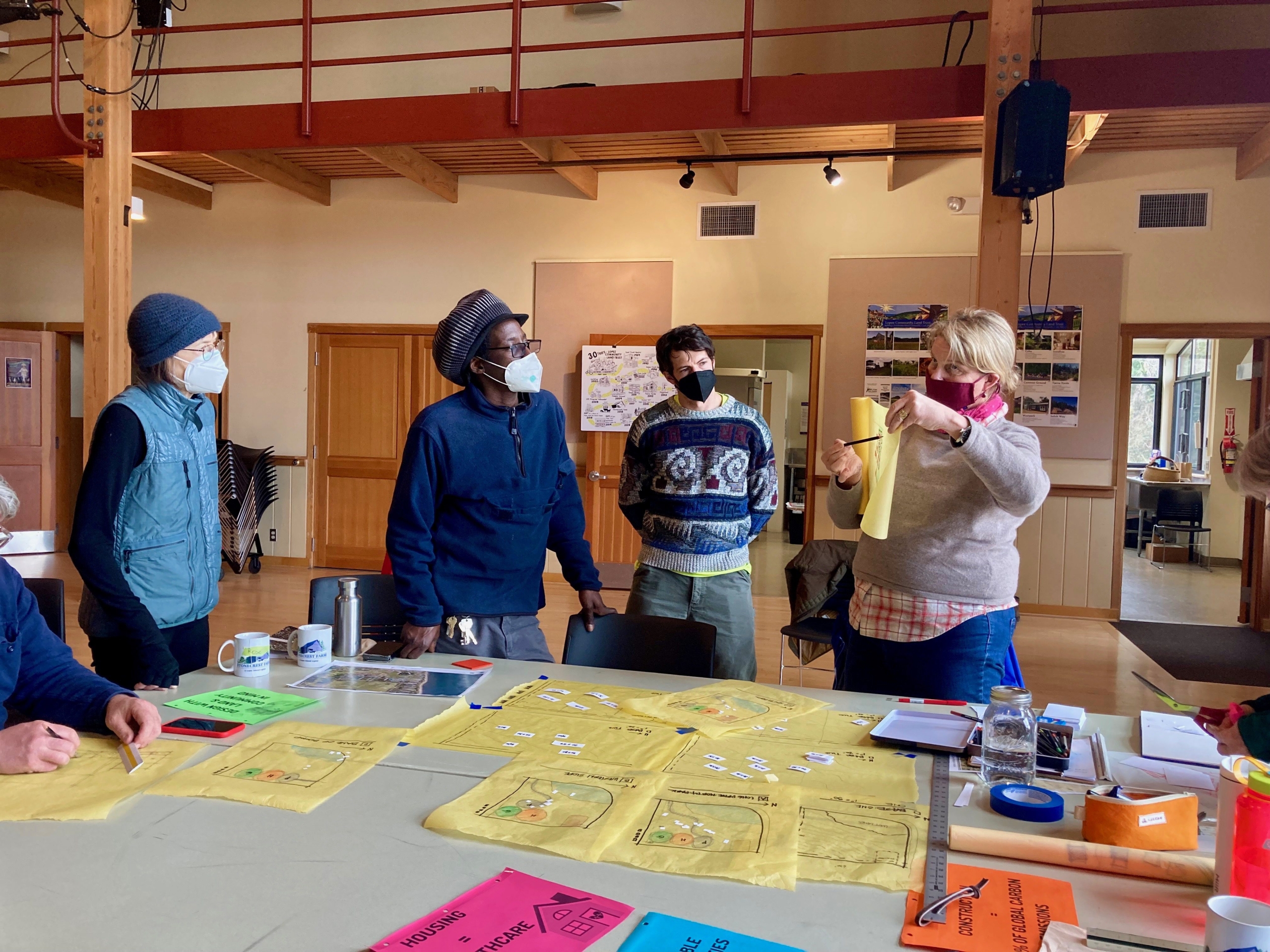 Kim Clements of JAS Design exploring options for Fisherman Bay Curve
There were three sites at the focus of the design charrette: the continued development of Salish Way, new homes at the Fisherman Bay Curve site, and Still Light Farm / Lopez Sound Road. We are grateful to all who took time to participate, and to Josh Ratza of Setsunai for providing delicious lunch.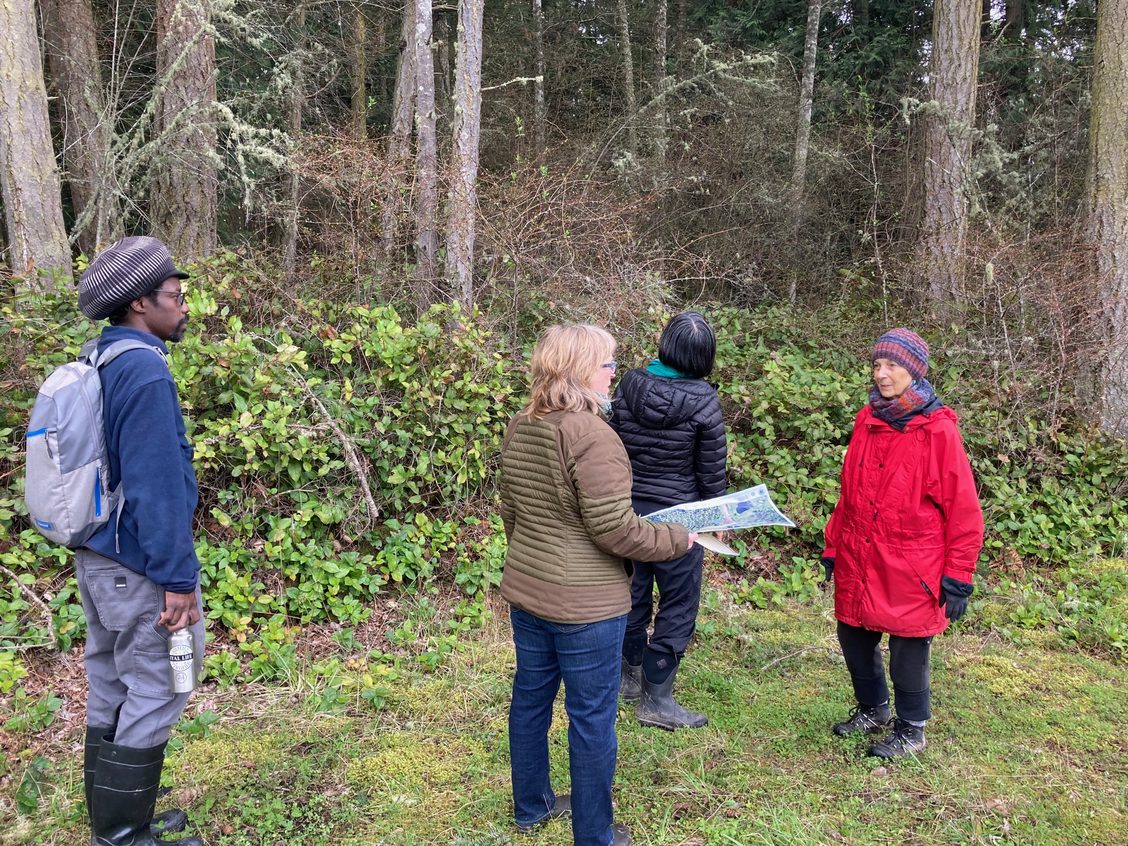 Executive Director Sandy Bishop leading a walkthrough of Fisherman Bay Curve
---
Housing Applications are Available
Lopez Community Land Trust (LCLT) opened our application process for new housing. The site is five and a half acres located at Fisherman Bay Curve, which we fondly refer to as the For Sale Soon property. (The old sign now has an earth flag displayed, though the building site will be tucked to the south and not visible from the county road.)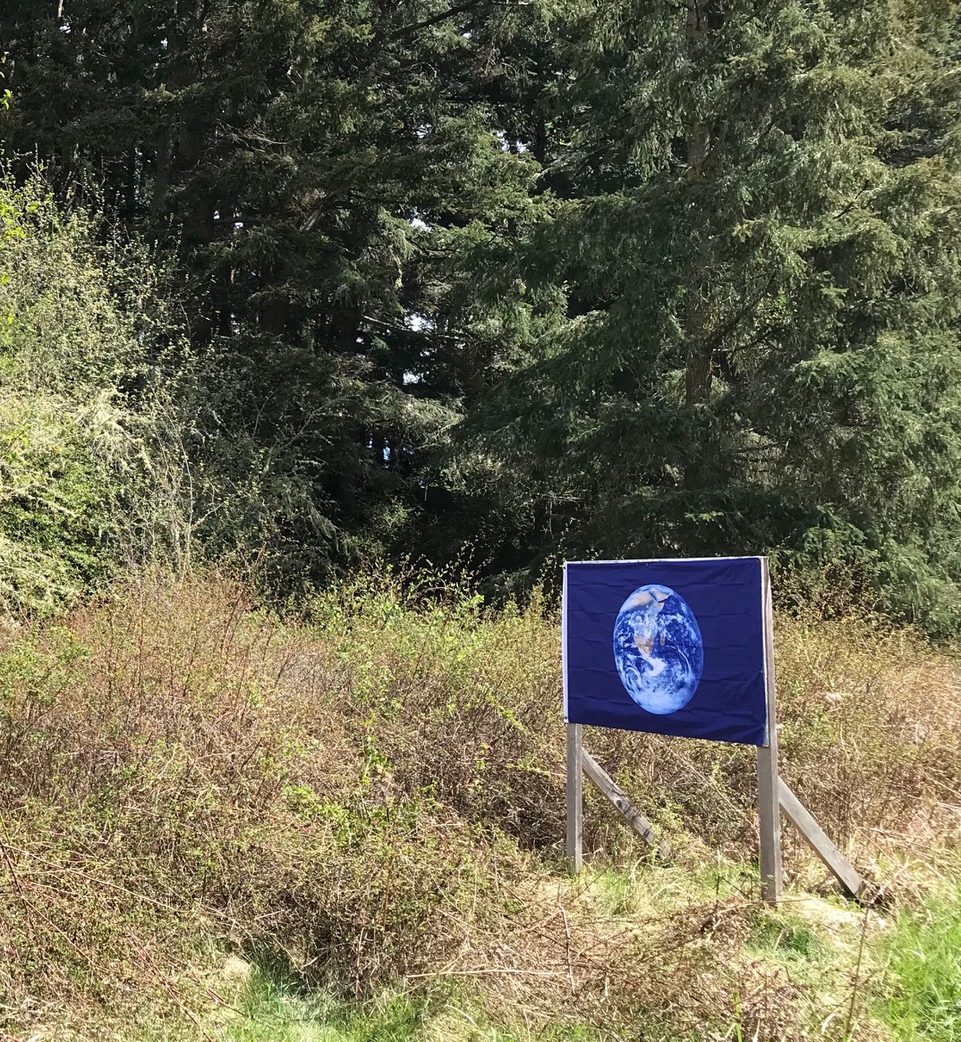 Earth Flag at Fisherman Bay Curve
We are in the process of reviewing applications and responding to queries.
Due to influencing factors – land use, septic, etc. our plan is to construct six homes with a focus on net zero energy and fire wise development features.
To learn more, visit https://www.lopezclt.org/housing-applications-available/
For an application, contact LCLT@rockisland.com
Applications available in English and Spanish.
---
Impressions from Thriving Communities & Coming Together Virginia Conference
Richmond, VA April 28-29, 2022
Photos by Jonathan Davis, text by Breton Carter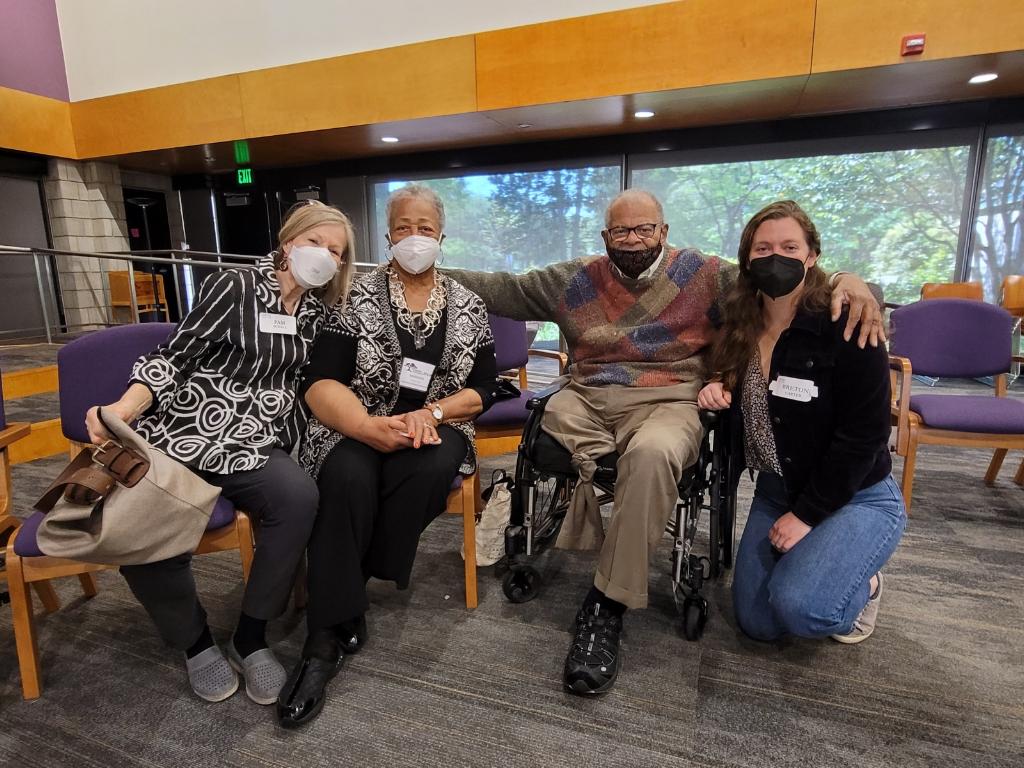 Pam Schell, Barbara Brown, Gus Newport & Breton Carter
The trip to Richmond was a truly inspiring experience. It was my debut beyond Lopez as a speaker for LCLT. The two-day conference took place in Richmond, the former capital of the Confederacy and home of Robert E. Lee. It was a really interesting time to be there, as the statues of confederate generals on monument avenue had just come down a few weeks prior.
The conference was a meeting of minds, sharing how collective community change has been created in pockets across the country from Boston, to Richmond, to Lopez Island. It created space for collaboration among white and BIPOC attendees meeting one another over lunch, sitting in meditation, practicing laughing yoga or bucket drumming, and diving deep into conversation after watching powerful videos of community change.
Our first day started off with bucket drumming led by Dr. Ram Bhagat. We listened as he led call and response, participating in conversation through rhythm. At first we each hammered to the beat of our own heart and were in awe as our heartbeats gradually synced together, creating a unified drumbeat. He has done this activity with groups of all ages and backgrounds, and every time, by the end, heartbeats and drums grow in sync.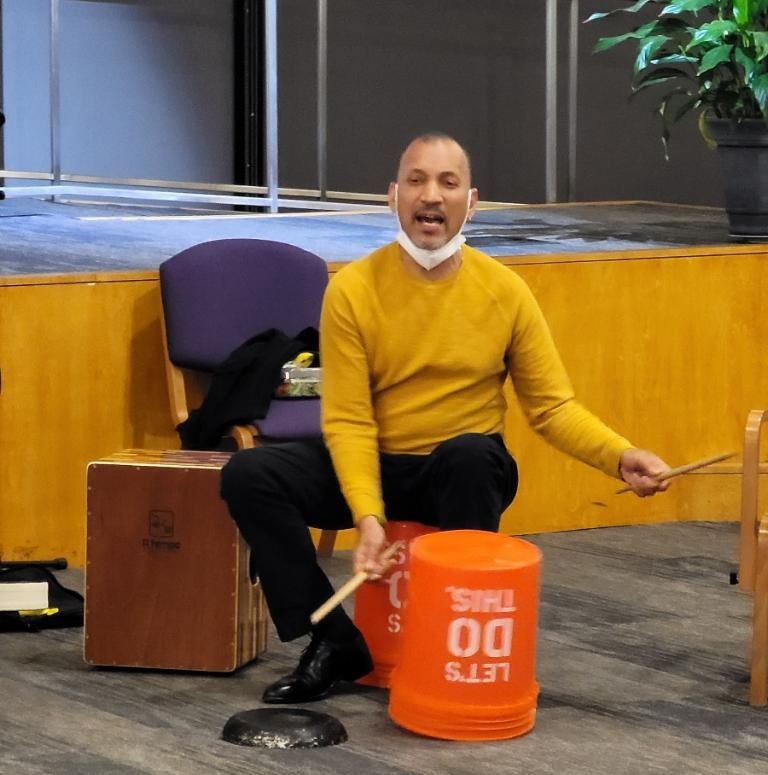 Dr. Ram Bhagat leading bucket drumming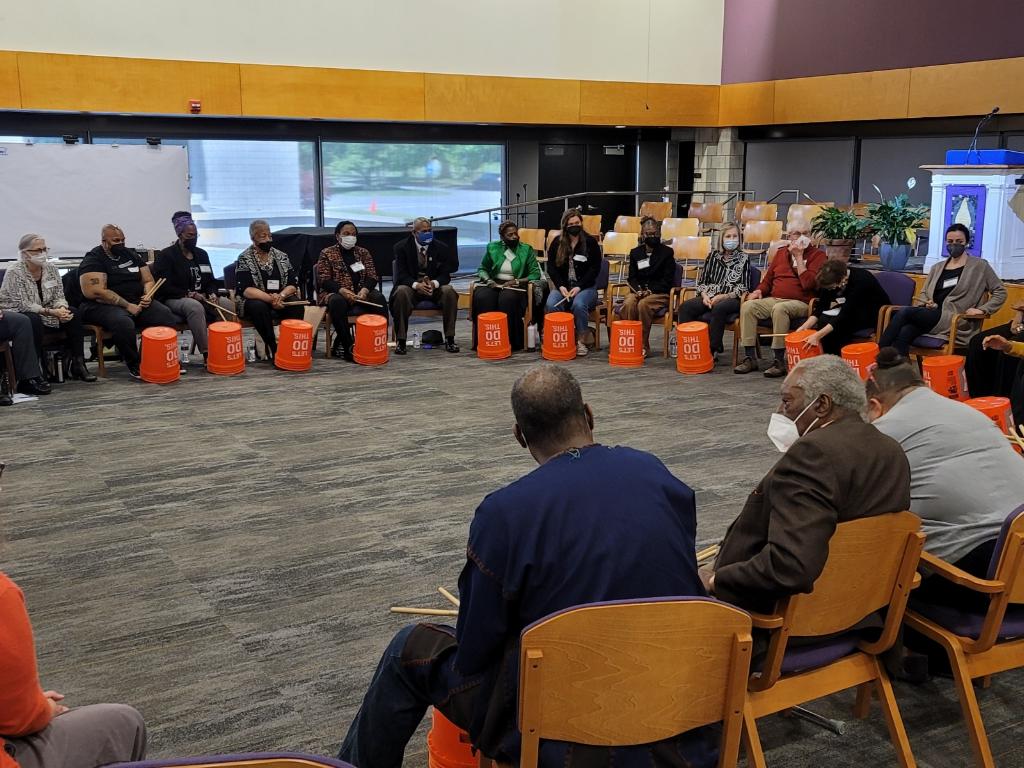 Bucket Drumming Participants at the Coming Together Virginia Conference
After the morning drumming, I went to lunch and sat at a table with Jason Webb of Grounded Solutions, Gus Newport, lifelong civil rights and peace activist, and Dr. Ray Tademy of Virginia Commonwealth University. I mostly listened as Gus and Ray discussed the challenges people who are and have been incarcerated face, and the tremendous skills and knowledge that they can bring to the table. Ray, a Black man with a PhD and a very academic background shared a story about his work at Open Minds, an education program at the Richmond City Jail. Ray had been working at the jail for a while and wanted to create programs outside of the jail to engage youth in healthy activities, and to support families. To meet people and encourage involvement in the program, Ray would walk up to a local's home and knock on their door. But each time he did so, people didn't answer or they quickly closed the door. Knock. No answer. Again, and again.
Ray was working with an incarcerated man, Ronald "BB" Shavers, through the teaching program at the Richmond City Jail and told him about how hard it was to connect with people. The man asked Ray, "How did you try to get in touch with them? You knocked on their doors?!" He laughed. Ray didn't understand what was so funny. The man explained, "You could have been social services coming to take a child away. You could've been a collections agent. You could've been anybody looking for someone. Of course no one trusted you – they just saw a stranger in a suit."
Ray asked, "What should I do?" and the man responded, "Pick up trash." Ray didn't quite believe it, so the man said, "when I get out, I'll show you."
When Shavers got out of prison, he started picking up trash around his neighborhood. Before long, some kids got curious and joined him. Little by little, they started talking, and expanded the program. Now, Ronald "BB" Shavers is the director of the Dawn to Dusk Program in Lynchburg Virginia, supporting kids and families, building connections and meeting community needs through a wide range of services.
Ray said that he never would have thought of picking up trash. He realized that intelligence isn't always academic in nature. He shared the significance of listening to others, letting go of differences and entitlement, and empowering local community members to lead.
Interestingly enough, on Dudley Street in Boston, it was also picking up trash (and removing illegal dumping zones) that started a movement… To read on, click here.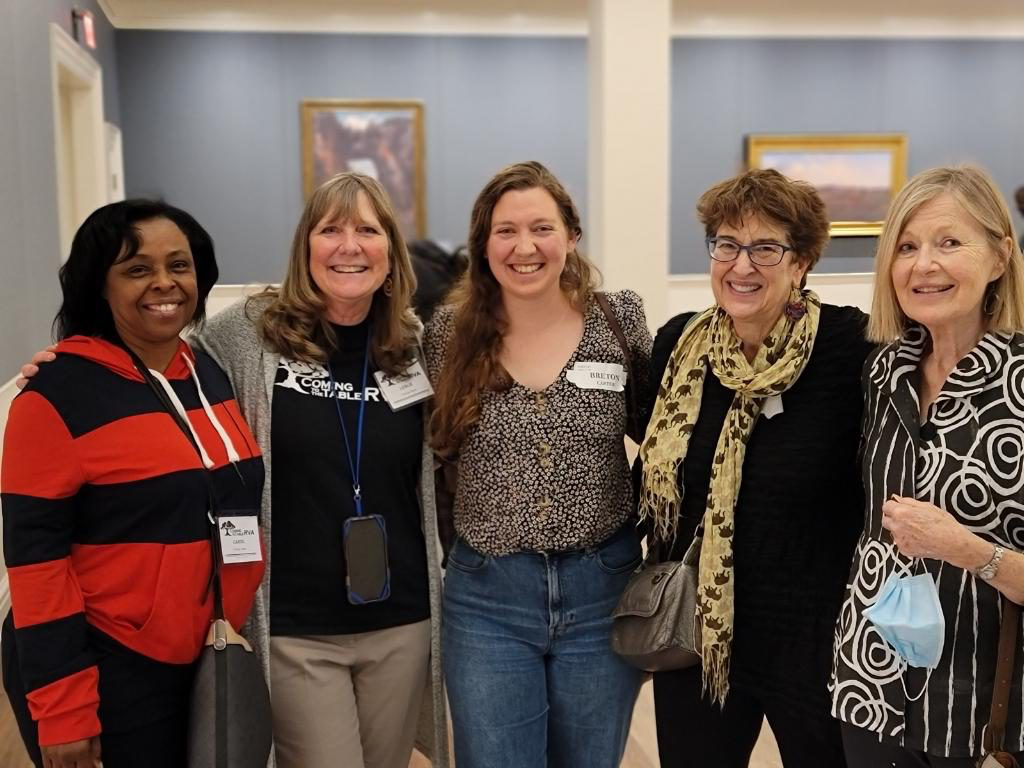 Coming Together Virginia hosts, LCLT Assistant Director Breton Carter (Center), and Thriving Communities Representatives

Coming Together Virginia Conference Attendees
---
Support LCLT
Our work is made possible through contributions large and small. Join us in building a resilient future on Lopez Island.
---
Do you shop online through Amazon?
If so, be sure to shop through the website smile.amazon.com and choose LCLT as your non-profit of choice.
Through Amazon Smile, Amazon donates 0.5% of your eligible purchases made on Amazon to a charity of your choice. The donation will be made at no extra cost to you. It's a small way for your online purchases to go back to Lopez Community Land Trust.
---
LCLT Board of Directors
Chom Greacen Chair, Quaniqua Williams Vice Chair, Mark Eames, Secretary, Jan Marshall Treasurer, Corky Searls and Asia Citro.
Staff
Sandy Bishop Executive Director, Breton Carter Assistant Director, Marly Schmidtke Project Coordinator & Administrative Assistant, Rhea Miller Community Liaison
https://www.lopezclt.org/wp-content/uploads/Rhea-Kids-scaled.jpg
2560
1920
Assistant Director
http://www.lopezclt.org/wp-content/uploads/2017/01/logo.png
Assistant Director
2022-07-26 11:03:00
2022-07-26 11:03:00
Summer 2022 Newsletter