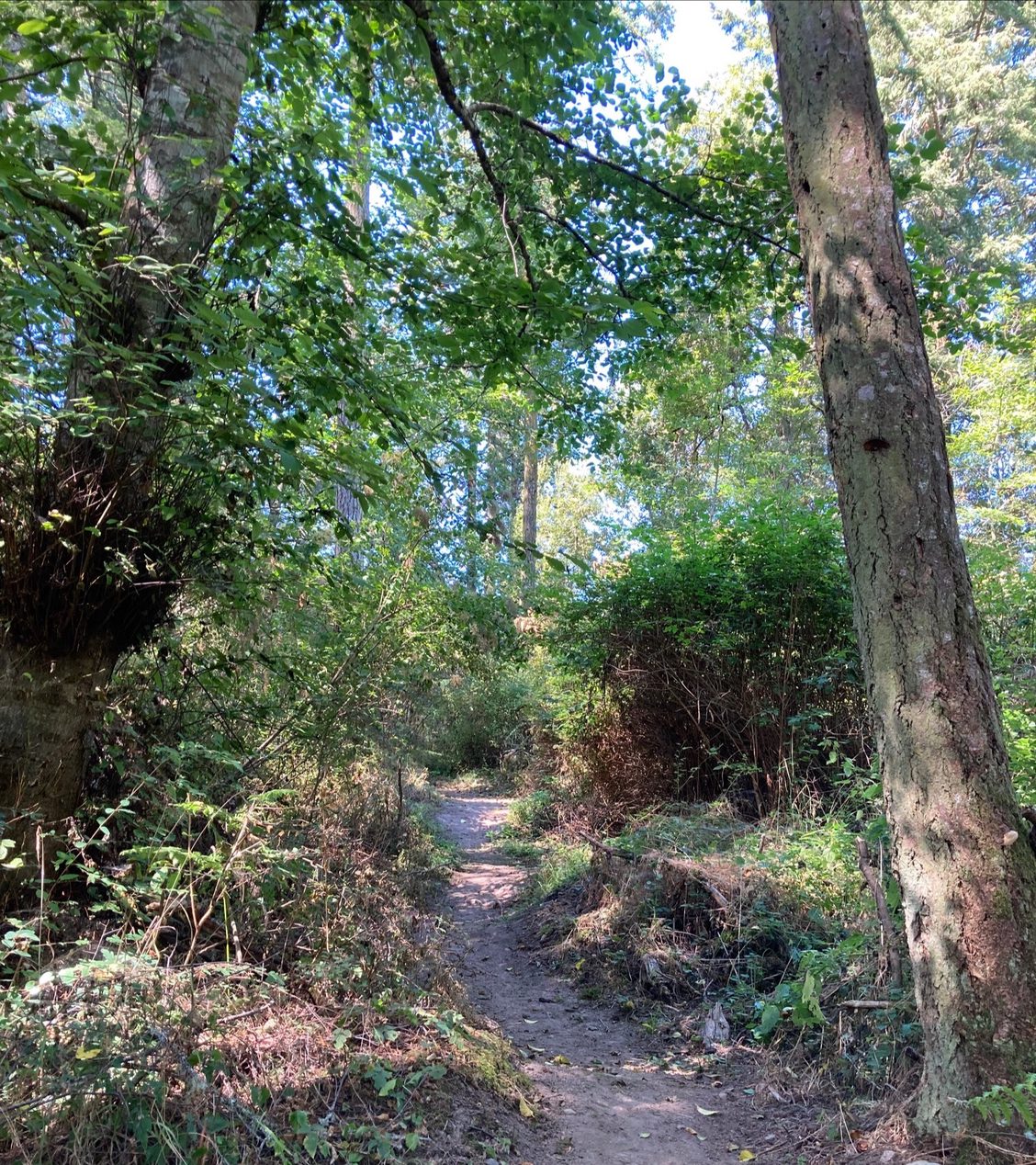 A forest path cleared by Camp Nor'wester Service Trip Volunteers
It may be that when we no longer know what to do
we have come to our real work,
and when we no longer know which way to go
we have begun our real journey.
The mind that is not baffled is not employed.
The impeded stream is the one that sings.
–Wendell Berry
In this issue, LCLT finds itself reaching deeper into the realities of today's world. We are exploring new avenues of housing, and we are working to ensure greater food and farm security on Lopez. We hope you will join us in this exploration and share your thoughts.
---
Director's Note
We are living in unknown and challenging times. At Lopez Community Land Trust (LCLT) we are continuously looking at how we approach fundraising, grappling with the spiraling costs of construction and persistent supply chain changes, our increasing island population, and the specter of losing local food farms from production.
The National Association of Home Builders recently reported that building materials prices are up 19.2% year over year and have risen 35.6% since the start of the pandemic. Additionally, more than 90% of builders and contractors nationally are reporting delays and materials shortages.
Rising challenges cause us to think and respond ever more creatively. We seek greater participation from the many who love this island. Over and over again this world shows us that by changing the way we look at things, the things we look at change too.
Access to housing and farmland has been out of reach to those who live and work on the island for quite some time. It is heartening to witness local citizens taking it upon themselves to rent their homes below market rate to residents who work on the island. Others have donated land and/or homes to LCLT so that working people can thrive on Lopez. We have had the opportunity to secure two farms. It takes a lot of work by a dedicated group of people to build community. Here at LCLT we join others in our dedication to create a community of belonging.
We invite you to contact us if you are interested in discussing a contribution or bargain sale of a home, land or ideas as to how to make more in-roads into this seemingly intractable issue of sustaining our island community. Think of what we have done together over the last several decades and imagine what we can do together in the coming days.
– Sandy Bishop, Executive Director
---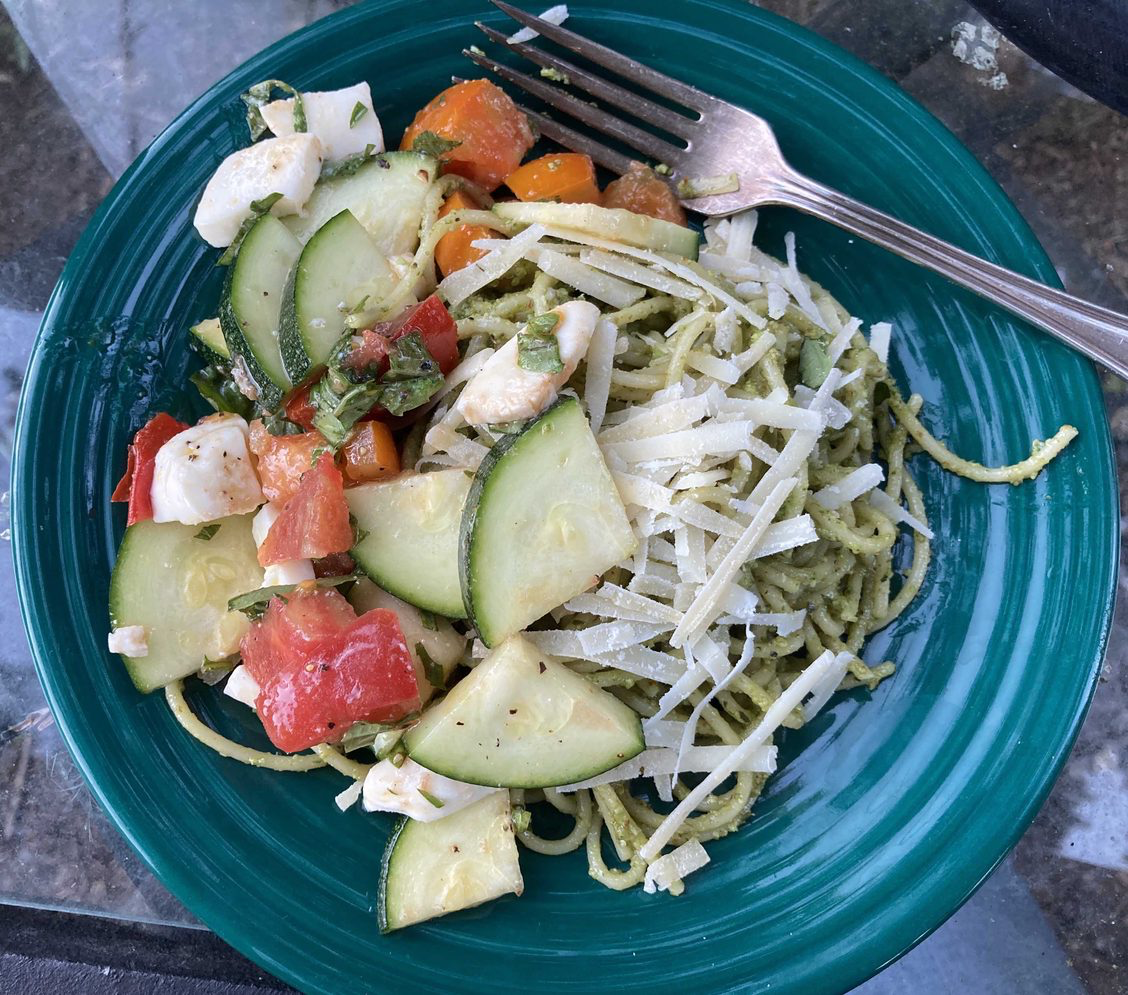 Dinner with island grown tomatoes, zucchini & basil
No Farms, No Food
By Rhea Miller
No Farms, No Food: It's just a simple bumper sticker, but I cannot get it out of my mind these days. I see the supply disruptions of deliveries to our local stores, the lack of grain around the world further disrupted due to a war in Ukraine, and the lack of produce due to continued and devastating droughts across the U.S. At home our fruit trees lost their fruit due to lack of pollination (cool wet spring and fewer pollinators) and damage from the tent caterpillars. We are not suffering because we live on an island of abundance, but multiple bad years can put populations in jeopardy. And then there is the issue of irregular and unreliable ferries leading to delays with food deliveries from the mainland. It seems wise to make sure we have local, resilient operating farms into the future.
Wendell Berry has a lot to say about this: "No matter how urban our life, our bodies live by farming; we come from the earth and return to it, and so we live in agriculture as we live in flesh. While we live, our bodies are moving particles of the earth, joined inextricably both to the soil and to the bodies of other living creatures."
"To be interested in food but not in food production is clearly absurd."
So far, the west side of WA State has been blessed with few repercussions from global climate change. Yet with the average age of farmers in their 60's, and some in their 80's on Lopez, we see the urgent need to preserve farms, rather than see them become unproductive estates. We understand that farmers need to sell their places at a price that enables their retirement. Unless we want to be the home of mega-mansions with jets that fly in their feasts, we must step up as a community to ensure "eating" for the next generations. LCLT has joined with two farm families to put two farms back into major production. It is not easy, nor inexpensive, to bring a farm into production, but it is essential.
As a community we need to:
Support existing farmers.
Attract new farmers and help pass on skill sets from those retiring.
Buy farmland for, or sell farmland to, inspired, working farmers.
Secure or offer long term leases on agricultural land especially if it has sat idle or is under-utilized.
Fund the cost of installing basic infrastructure – water (ponds, wells, rainwater catchment), updated septic, barn repair or construction, fencing, farm housing.
Buy local.
Lopezians and LCLT have been told many times that "it can't be done," and yet it has been done. Let's keep it up. Join us!
---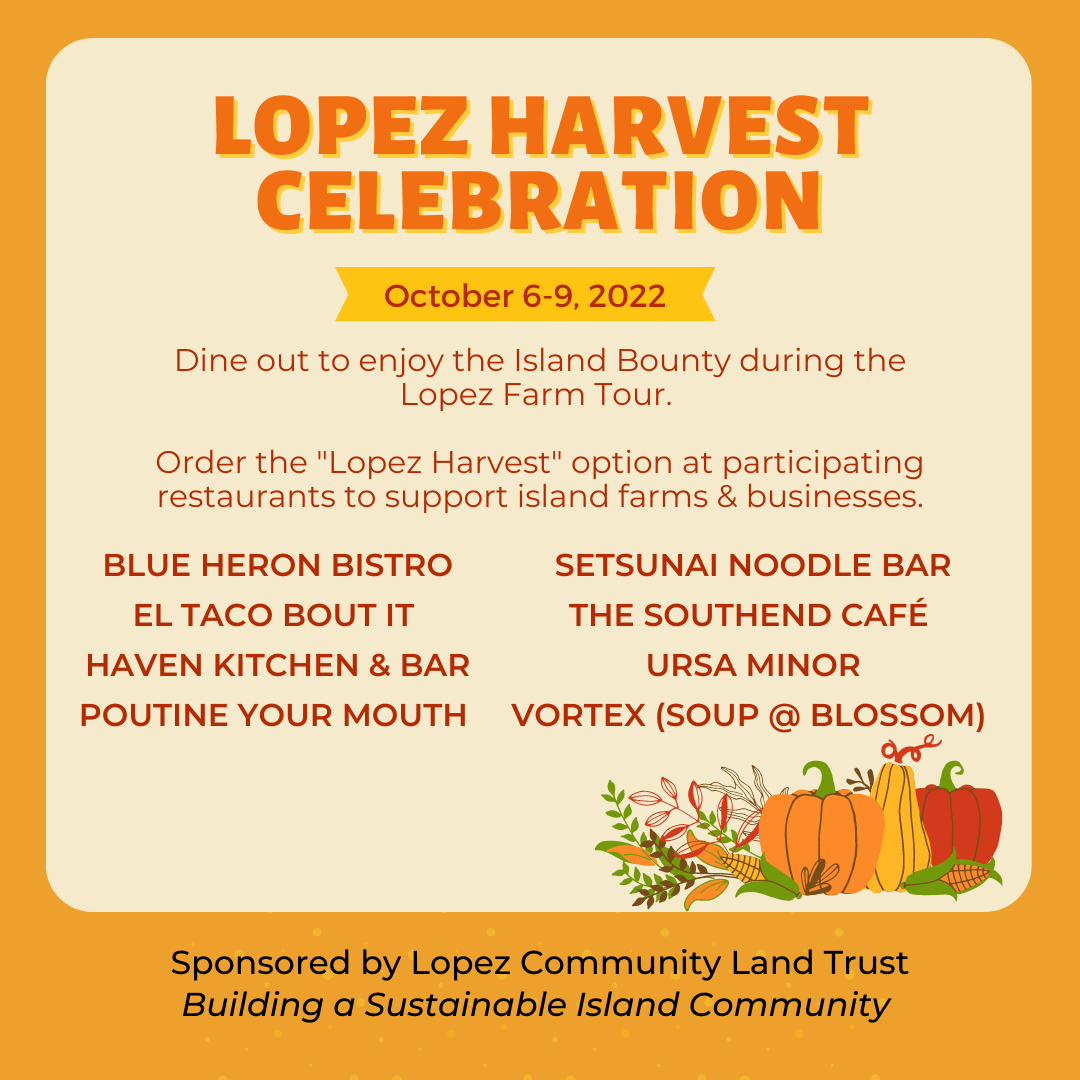 This year, we are reimagining the Harvest Dinner with a series of Harvest Meals, available at local eateries during the week of October 6th-9th (the same time as the Lopez Island Farm Tours). We encourage you to eat out and order the "Lopez Harvest" option available at participating restaurants to support island farms and businesses.
Details on hours & offerings available here: https://www.lopezclt.org/lopez-harvest-celebration/
---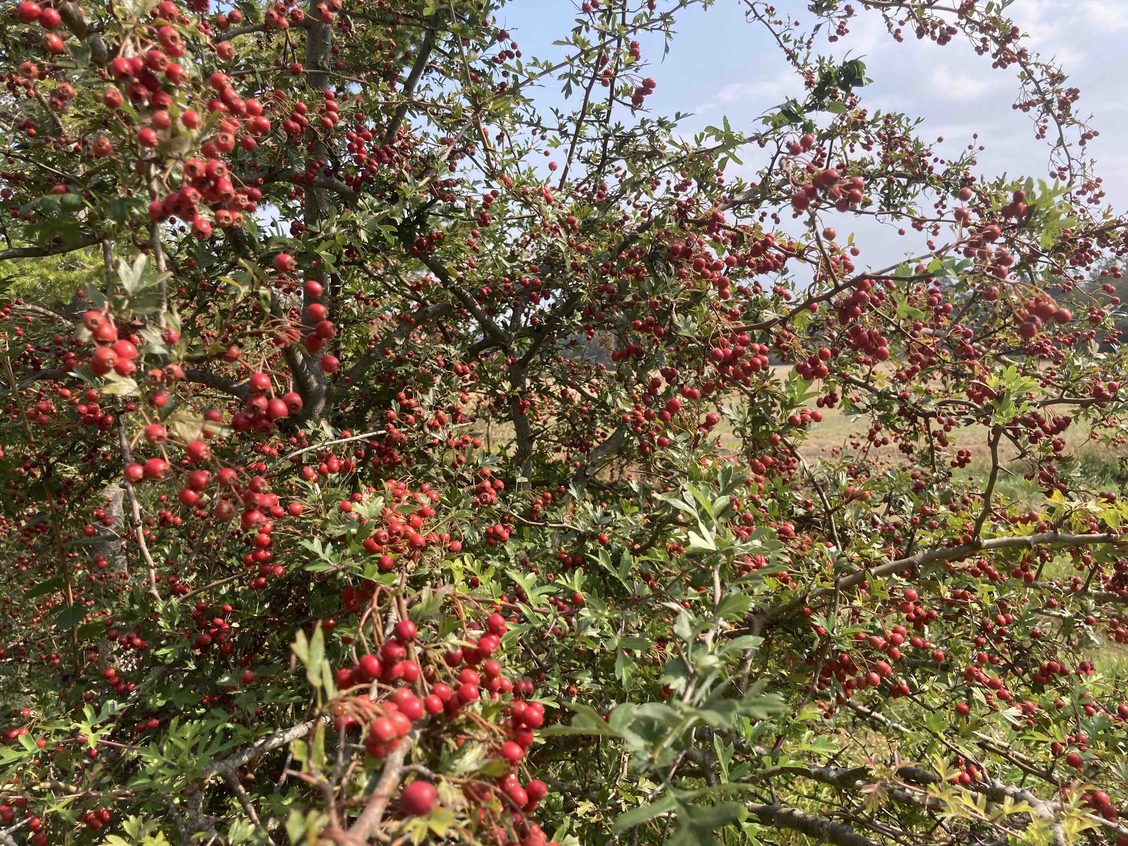 Hawthorns in full berry
Still Light Farm News
By Lena Jones
The air still holds its summer heat but the hawthorns are deep red with berries, the spiders are weaving through the long grass, yellow wooly bear caterpillars are on the move, and the meadowhawk dragonflies are taking flight. We are celebrating the end of our first full, beautiful season on the farm. Summer was good to us. We worked hard, welcomed an abundance of visitors from near and far, and ate dinner at the beach as often as we could.
In the fields, we're laying the groundwork for the 2023 season. This fall, we'll plant two acres at the top of the field in a mix of cover crops, depending on what is to follow. We're curious to see what does well in our soils and what will winter-kill in this climate. Next spring, that acreage will be planted in a variety of crop trials. While we wait for rain to seed the field, we're pressing forward on other projects. The perimeter is getting cleared to make way for higher fencing. We're prepping a pad for the hoophouse, due to arrive any day. The driveway has been freshly topped in hopes that it will be drivable this winter and is now ideal for bike riding, much to the children's delight. Andrew has made our old shed, once unstable and roofless, into a sturdy dry space for tools and supplies, and the beautiful old concrete sink we uncovered in the old barn site is there, up on a new stand and soon to be pressed into service.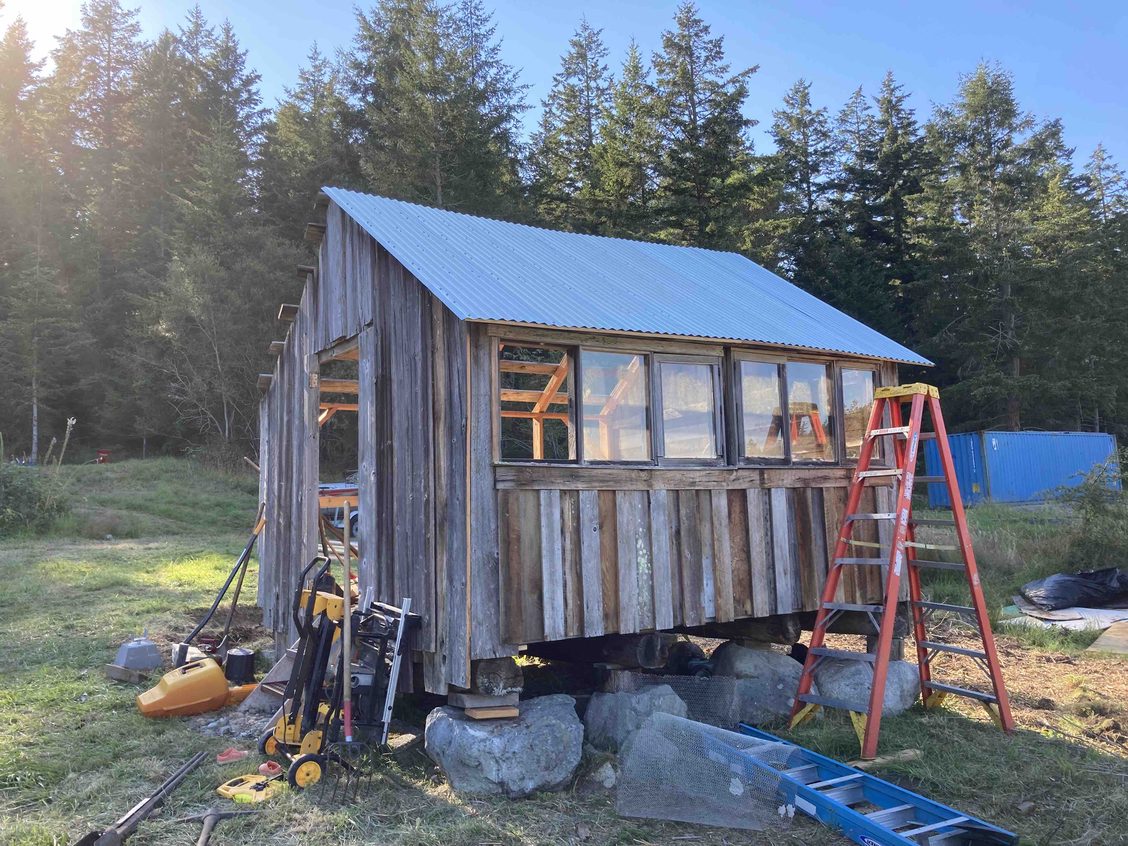 Little shed mid-way through
We've been glad to preserve what history we can from the old farm. Many of the other remnants have been cleared away this summer: rock piles, tangled barbed wire, open tanks, and rubbly hills. While, unless you'd visited recently, you wouldn't notice the change, we feel it. We can walk freely, mow (still quite carefully), and the kids can explore at will. The hillside has been seeded in native prairie and we are making plant lists, preparing for a winter hedgerow planting and trees, always more trees. We are more thankful than ever to call this place home and look forward to our first full autumn on the island.
---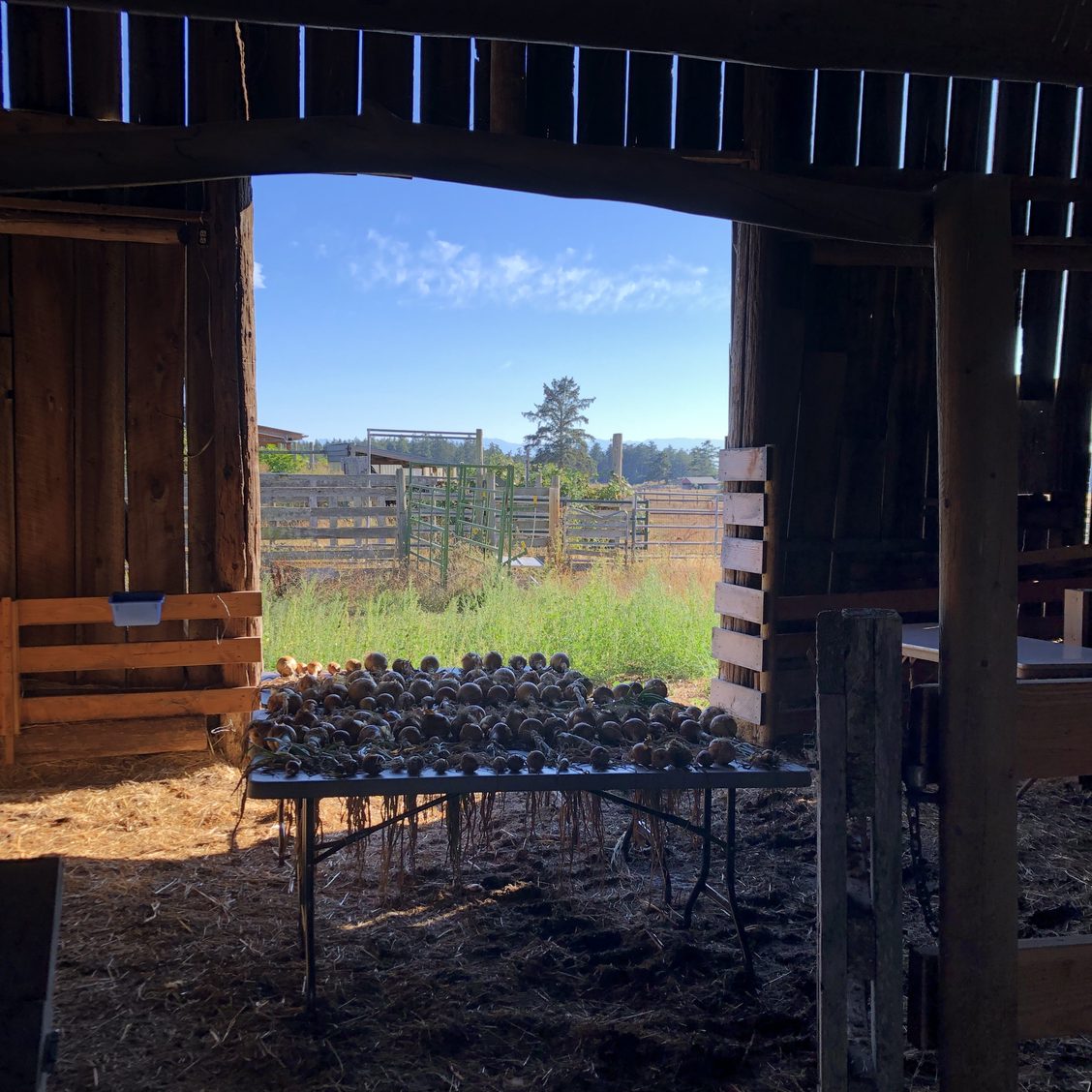 Onions drying in the barn
Stonecrest Farm News
By Meike Meissner
The swallows left some time during the second week of September. We noticed them gathering on the overhead wires while picking the late season blackberries and, just like that, they disappeared. Here one day, gone the next, their silent swooping was replaced instead by raucous flights of migrating Canada geese and the low timbre of bullfrogs early in the morning. As of this writing we await the return of the rains to bring new growth and life back to dormant pastures, and watch with dismay as the smoke obscures the view of Mt. Constitution and the lower Center Valley fields.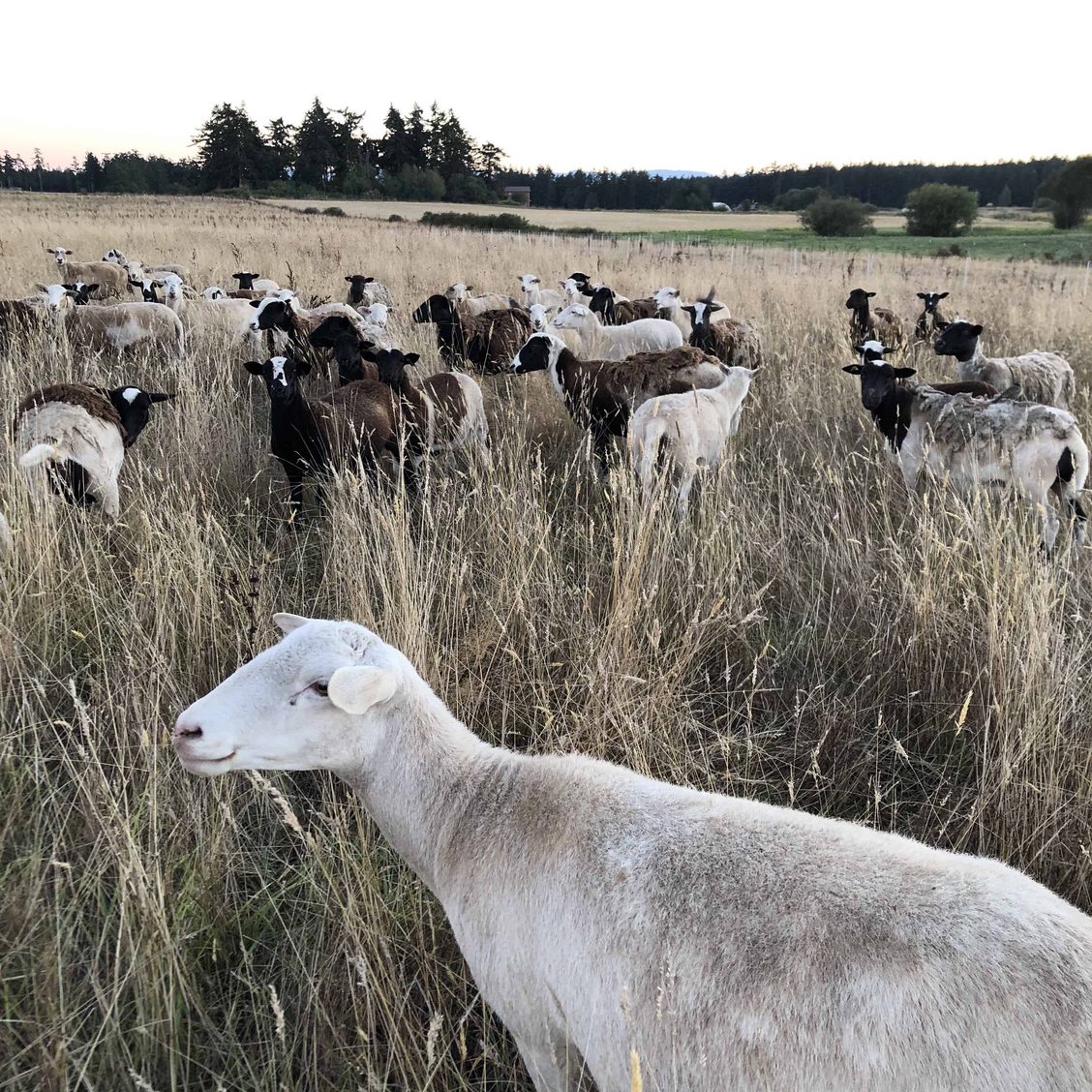 Sheep in the long grass on Stonecrest
At Stonecrest we are moving sheep and cows around the neighborhood, still finding good green forage under the brown canopy after the wet spring that spurred tremendous growth of both grass and "weeds." In particular, we are keeping an eye on curly dock (Rumex crispus) this summer, which has enjoyed the wet spring more than most other plants and is having a big year on many of Lopez's fields. Curly dock was introduced into the U.S., possibly arriving as a seed contaminant in the early 1600's when the British brought crops and cattle to New England. This plant has spread to every U.S. state and Canadian province, and is now considered one of the most widely distributed weeds in the world. Its seeds can lie dormant for more than 80 years, and while grazing and mechanical removal do a good job of controlling its growth, only heavy use of some herbicides has been shown to be an effective long-term control. We find that sheep enjoy the dock seeds during the fall and are taking notes and photos to see how intensive grazing affects the regrowth of plants next spring. We will report back and let everyone know if hungry sheep might be the answer!
The renovation work of the Stonecrest Barn has commenced with the milling of local trees, with stacks of lumber curing inside and awaiting installation. We will not be participating in the Farm Tour this year as we will be busy working on this project and will not have any animals on site at the beginning of October. We will instead do a Lopez-locals farm tour in the spring when the barn project is complete and there is more life (baby animals!) on the farm.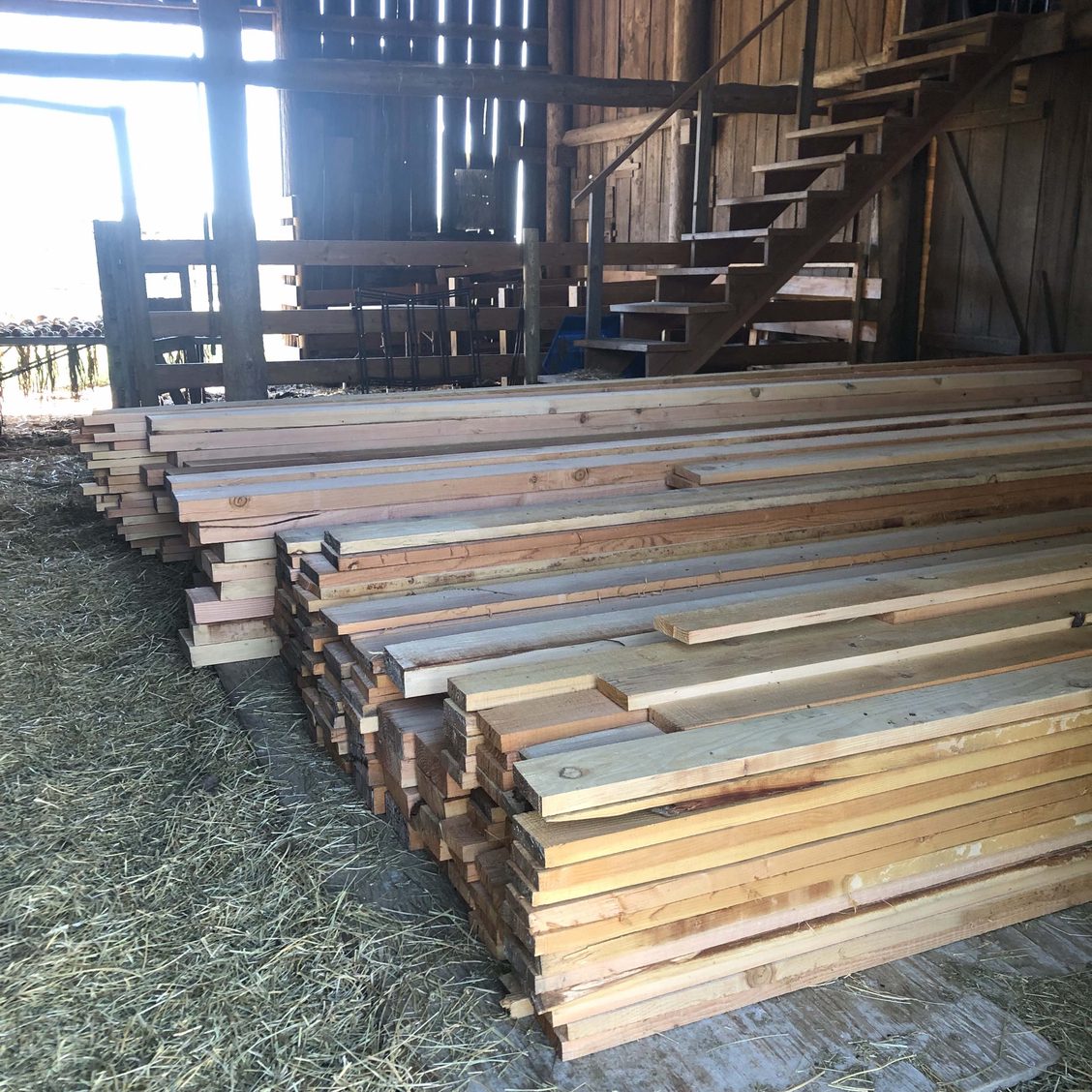 Island Fir Drying in the Barn
Thanks again to everyone who came out to the Lopez Island Farmers Market throughout the summer to support our local growers, bakers, gardeners, and creative makers. This summer felt full, on all levels, and the market, the San Juan Islands Food Hub, and traffic to the Stonecrest Barn Stand kept us busy. At the end of September we will begin a series of autumn harvests of beef, lamb, and pork, and plan to have our freezers full and open to the public throughout the winter. Here's to gathering during this season of plenty with friends and family!
---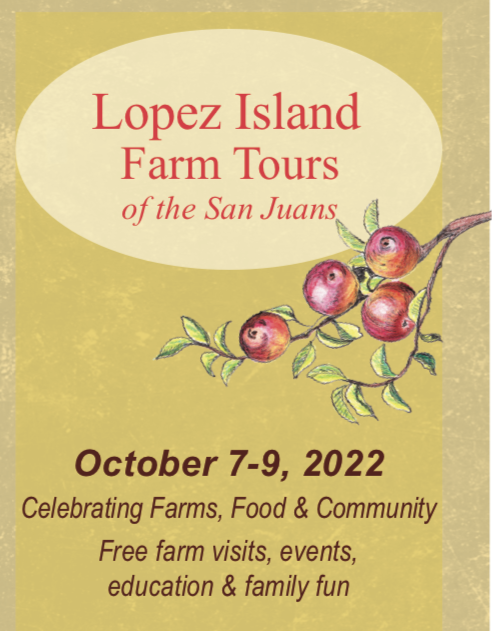 Lopez Island Farm Tour October 7-9
There is something for everyone during Farm Tours of the San Juans. From educational presentations and delicious foods, to free kids activities, pressing cider, and lots of farm animals! Paid and free events.
Click here for a link to the Lopez Map & Events
---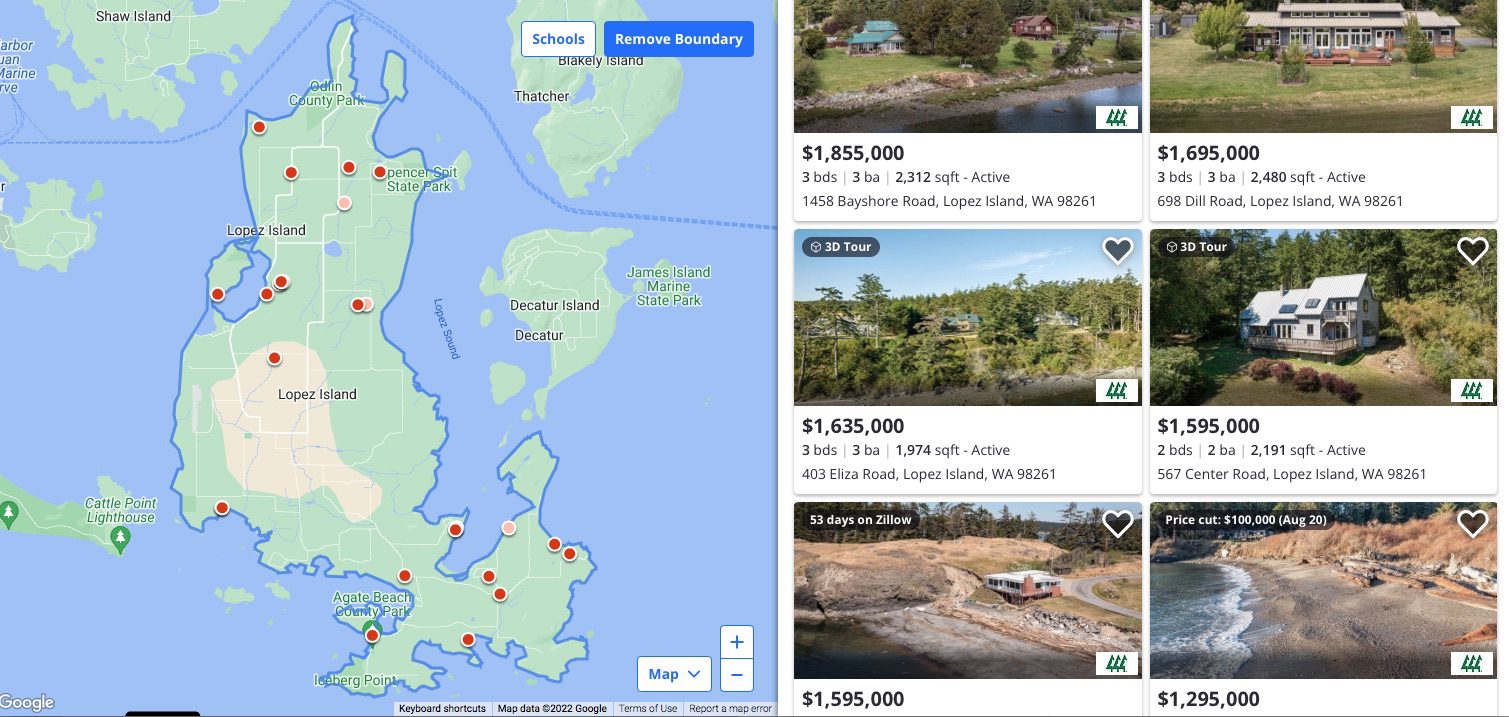 Current housing stock available for sale on Lopez.
Building and Buying, Current Trends on Lopez
By Breton Carter, Assistant Director
Lopez Community Land Trust (LCLT) incorporated in 1989 when the cost of housing rose 190% in a single year. LCLT arose as a response to the question, "how are we going to keep the community intact?" when working islanders could no longer afford to live here. Today, the question still remains.
Recently, we've been on a search to purchase existing homes. Bear with me as I dive into some dense facts and statistics, but I want to illustrate why we are pursuing this course of action, where we are, and how, once again, we're exploring the flexibility of the community land trust model.
Across the nation, median home values are increasing, tech and finance firms have been buying up homes, and the cost of new construction has risen 33% since the start of the pandemic. To compound this, the rise in interest rates has made "the American dream" of homeownership unattainable for many, as those who worked to improve credit scores and save up for a down-payment are priced out of the market with high monthly payments from increased interest.
At LCLT, we recently compared the cost of building Morgantown to the projected cost of our next development at the Fisherman Bay Curve site. As you can imagine, the cost of building new construction continues to rise. In 1992, it cost us $71,400 average per house to build at Morgantown (including land). In today's dollars, with inflation that's about $150,856 per house. The estimate for this next project is $471,000 per house. That's a 312% increase in 30 years and inflation accounts for only 127%. You can see this in the chart below: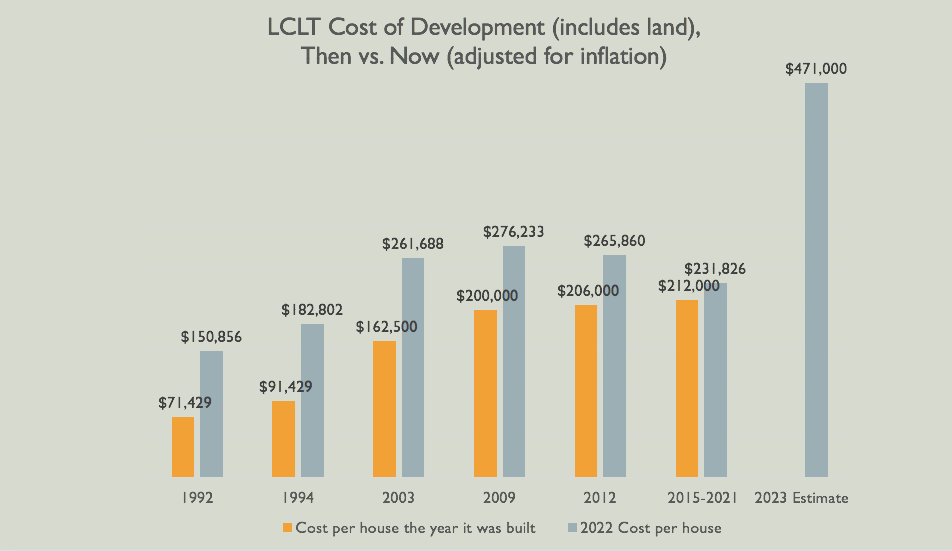 The increase is due to many factors, including building and development code changes, the continued impacts of the pandemic, supply chain disruptions, and volatile markets. At the same time, the real estate market on Lopez has been rapidly rising, with the average sale price of 39 homes sold over the past 12 months at 1.1 million dollars. In our 30-year building history it has always been more financially viable to build new than to purchase an existing home. But the cost of building new is now comparable to the cost of buying a modest pre-existing home – if we can find them. The land available in the Lopez Village Urban Growth area where we can build in higher density, is rapidly diminishing. Recently, we've started exploring the option of purchasing pre-existing homes and are working on having the framework in place for when the opportunity arises. This would increase flexibility, and allow individuals and families who work in the community to live across the island, not just in town.
So, we're turning to you, our community to ask – do you have a home, perhaps a fixer-upper you'd like to see go to local, hardworking folks? Are you considering selling and would like to ensure your house remains permanently affordable for community members? If so, we invite you to start a conversation with us.
---
Support LCLT Today
When the opportunity arises to purchase a pre-existent home or farm, we need to have the funds on hand to secure the property. We ask you to make a personally significant donation to ensure our community remains intact.
---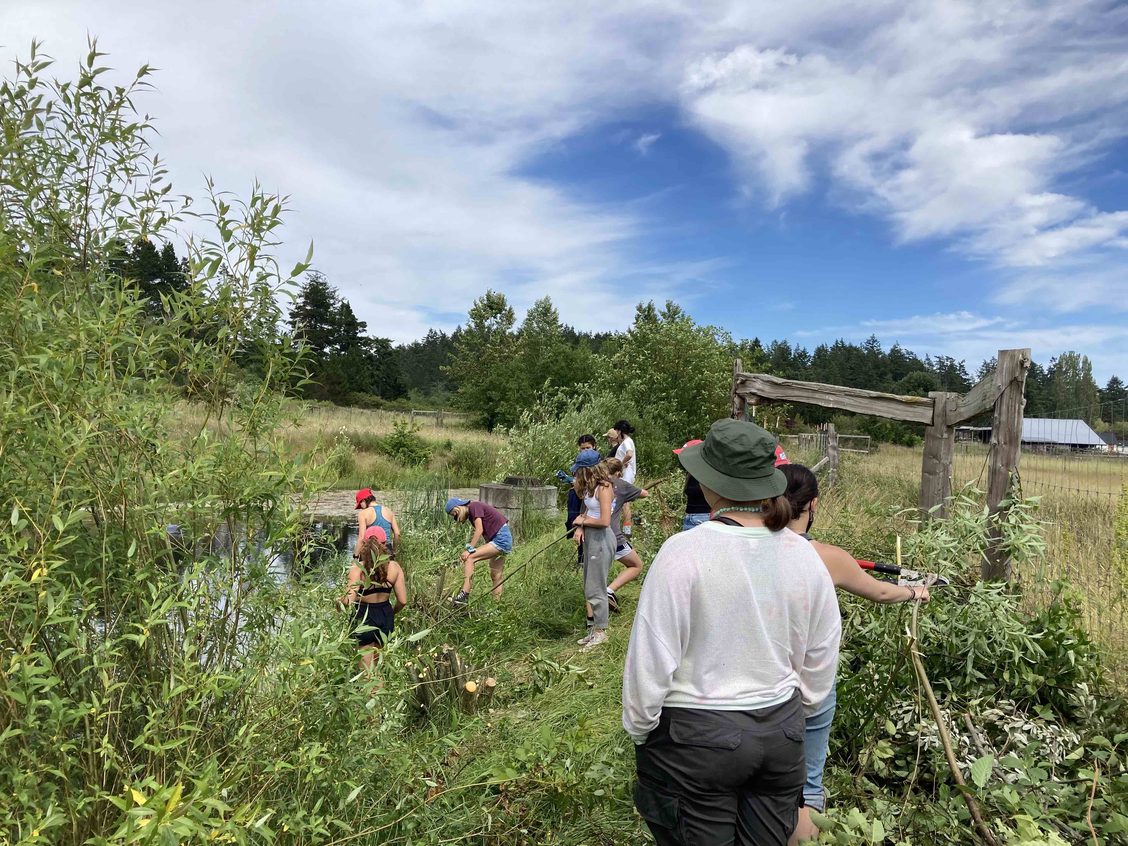 Camp Nor'wester Volunteers came periodically throughout the summer. They helped us get a lot of work around LCLT done! We made trails, cleared willow from the pond, planted trees & shrubs behind the office, weeded all around, liberated trees, cleared brush, & painted the kid-shed.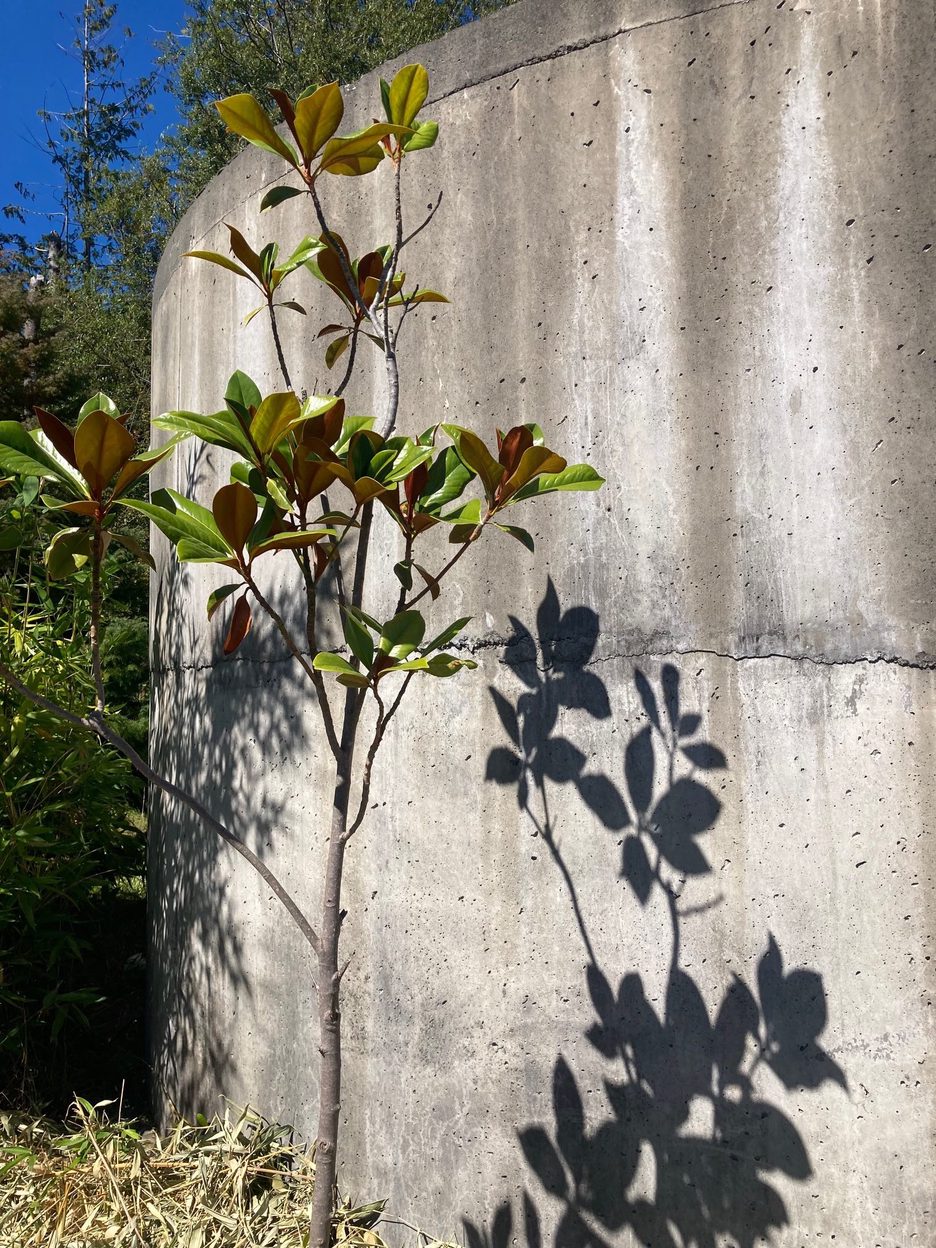 Newly "liberated" magnolia shading the LCLT water tank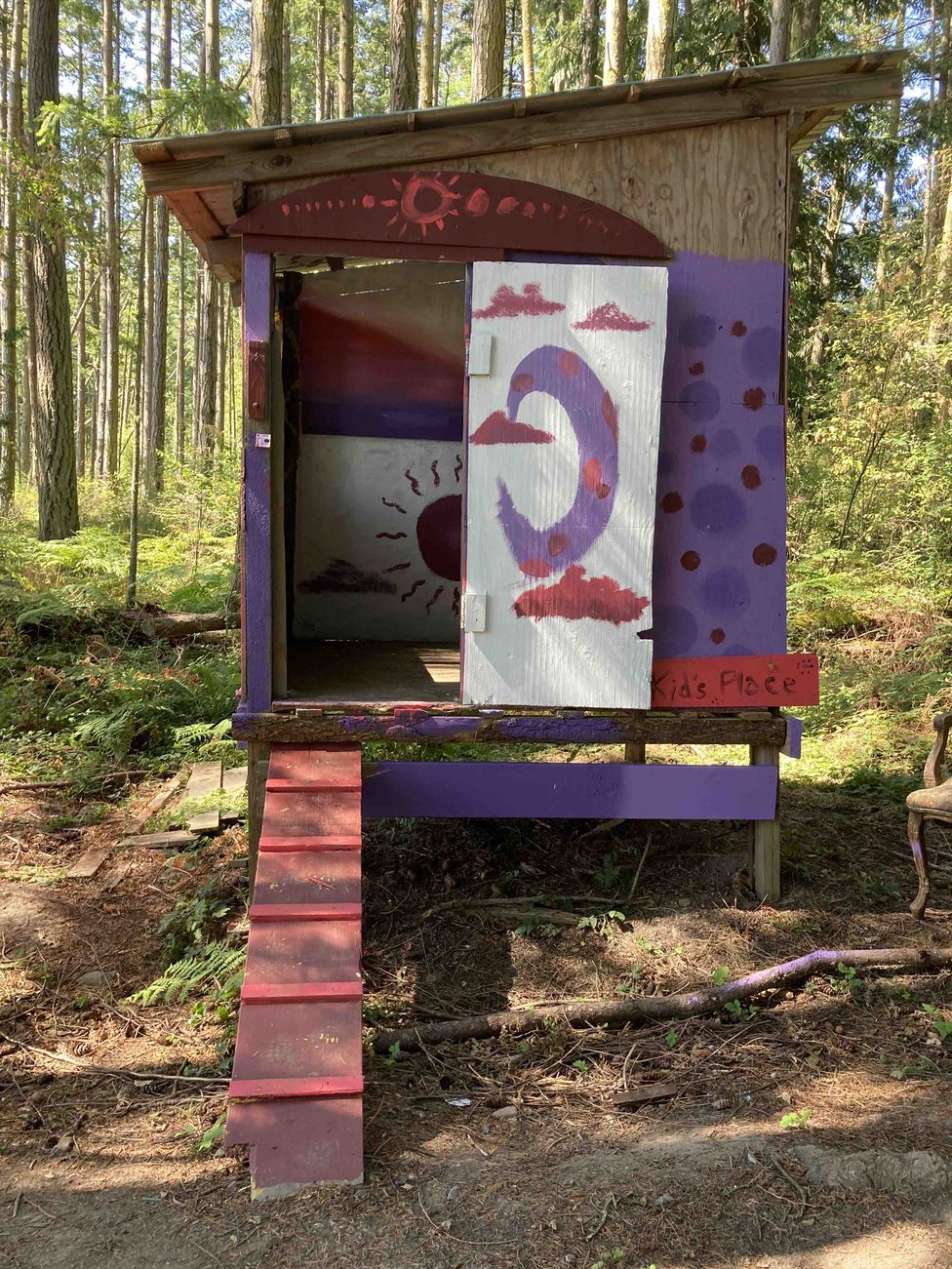 Repainted Kids' Place Shed
---
LCLT Board of Directors
Chom Greacen Chair, Quaniqua Williams Vice Chair, Mark Eames Secretary,
Jan Marshall Treasurer, Corky Searls and Asia Citro.
Staff
Sandy Bishop Executive Director, Breton Carter Assistant Director, Marly Schmidtke Project Coordinator & Administrative Assistant, Rhea Miller Community Liaison
Want to join our mailing list? Be sure to subscribe via the form at the bottom of this page.
---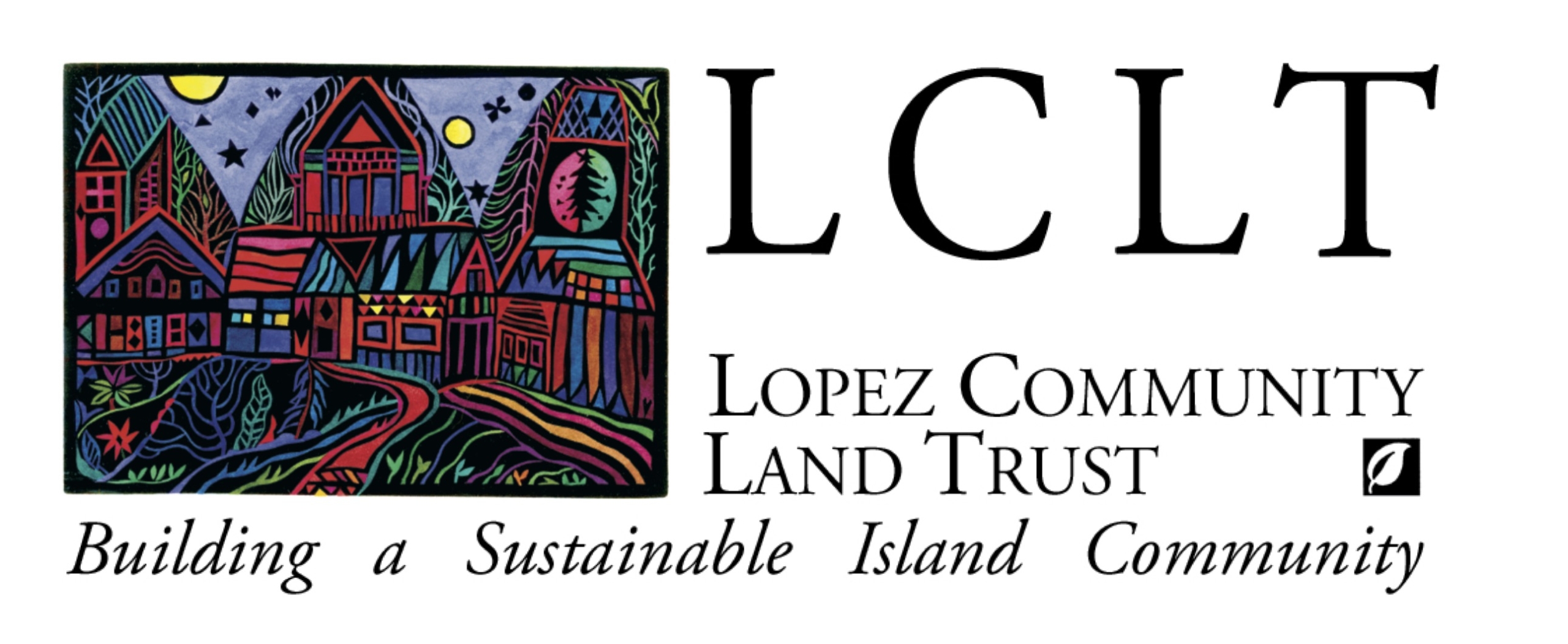 https://www.lopezclt.org/wp-content/uploads/f4fcf938-c432-4b6c-3ba7-9b6028df5ae3.jpeg
1268
1128
Assistant Director
http://www.lopezclt.org/wp-content/uploads/2017/01/logo.png
Assistant Director
2022-10-10 11:29:24
2022-10-10 11:30:09
Fall Newsletter 2022